Stefano Mirabello
Pharmacist / B.Pharm
When it comes to healthcare in the United Kingdom, the NHS is the backbone of the healthcare industry. In recent years, the NHS has introduced new systems and technology to make the healthcare process more streamlined for patients, and one such system is NHS 111. This system has been designed to assist patients in finding the right healthcare solution for their concerns. In this blog post, we will outline what NHS 111 is and discuss when and how you should use it.
What is NHS 111?
NHS 111 is a fast and free service that provides medical advice and support. It's available 24/7, so you can call whenever you need help with your health concerns. You can also get dental care advice through NHS 111. When you call, trained professionals will answer your questions and guide you on the best course of action to take for your specific case. NHS 111 provides free medical advice and support, including dental care advice, available 24/7.
If you're not sure whether to go to the emergency room or see a GP, NHS 111 can provide an assessment over the phone. They'll ask about your symptoms and advise on what to do next. If necessary, they'll connect you with urgent care services or arrange an appointment with a GP. So if in doubt about any health concern, don't hesitate to call NHS 111 for help!
Overview of NHS 111 service
The NHS 111 service is a fast and easy way to get medical help, advice and support when you're unsure about what care you need. This service is available 24/7, and the trained advisors who answer your call can help with everything, from emergencies to dental concerns. This might mean finding a dentist, or an emergency dentist if there is availability in your area.
Clinicians, such as nurses, doctors, pharmacists and paramedics now play an important role in NHS 111. In fact, over 50% of people who call 111 speak to someone in one of these roles. The purpose of NHS 111 is to provide people with quick access to healthcare advice, assessment, or care, depending on their needs.
By calling NHS 111, you can receive help for urgent health problems, without having to wait for an appointment with your GP or visit the hospital unnecessarily. Whether it's getting advice on how best to manage a minor injury or finding out whether your symptoms require immediate attention, the knowledgeable team at NHS 111 are there for you. Overall, using this service can save valuable time, while ensuring that you get the right level of care at all times.
How does NHS 111 work?
NHS 111 is a free and fast service that offers medical advice and support to individuals with non-emergency health concerns. If you are unsure about the severity of your symptoms or need immediate help, NHS 111 is available to assist you. The service can be accessed through a simple phone call, which will connect you with healthcare professionals who can offer guidance on what steps to take next. NHS 111 will signpost you to the most appropriate care for your condition, which could be your GP, local pharmacy, walk-in centre or another more appropriate local service. It could also be the emergency department or a referral to an urgent treatment centre if required.
When using NHS 111, it is important to provide as much information about your condition as possible so that the healthcare professional can make an accurate assessment of your situation. You may receive advice over the phone, book for a call back, or be directed for further care, such as booking appointments with GPs or dental clinics. Trained advisers including nurses and paramedics are always at hand when calling for help through this service.
To get help from NHS 111, you can:
Use the online service (111.nhs.uk) (for assessment of people aged 5 and over only)
Call 111 for free, from a landline or mobile phone
Alternative access to NHS 111
If you have difficulties communicating or hearing, you can:
When should I use NHS 111?
NHS 111 is a non-emergency medical service that can be used for a range of health concerns. If you have a non-life-threatening medical situation and are unsure about what to do, NHS 111 can guide the best course of action. This could include advice on self-care or booking an appointment with your GP.
In urgent situations where immediate medical attention is required, such as chest pain or severe bleeding, it's essential to call 999 instead of NHS 111. However, if you require out-of-hours medical support and cannot wait until your GP surgery reopens, then NHS 111 may be able to assist you in finding the right care. Overall, if you're not sure where to turn when faced with a health concern, calling NHS 111 can help provide clarity and peace of mind.
Non-emergency medical situations
When dealing with non-emergency medical situations, it may be tempting to tough it out or rely on home remedies. However, if you have a minor injury like a sprain or cut that is not healing properly, seeking medical attention can prevent further complications and speed up your recovery.
Similarly, common illnesses like colds or flu can be easily managed at home with rest and over-the-counter medications. But if symptoms persist for more than a week or become severe, it's important to seek advice from NHS 111. This service can guide you on whether additional treatment is needed and connect you with the appropriate healthcare professional.
Lastly, persistent symptoms that are not improving despite self-care measures should also prompt a call to NHS 111. These could include chronic pain, digestive issues or mental health concerns. While they may not require emergency care right away, they could signal an underlying condition that needs attention from a healthcare provider.
Urgent medical situations
When facing urgent medical situations, it's important to act quickly and seek medical attention as soon as possible. Here are some examples of urgent medical situations you should be aware of:
Chest pain or difficulty breathing
Severe bleeding or injuries
Loss of consciousness or confusion
If you experience any of these symptoms, don't hesitate to call 999 for emergency assistance. Every second counts in these cases, so it's crucial to get the help you need right away. Remember that NHS 111 is also available 24/7 if you're unsure about what steps to take next. Don't wait until it's too late – prioritise your health and well-being by seeking help when needed.
Out-of-hours medical situations
When your GP surgery is closed and you need urgent advice, it can be confusing to know where to turn. This is especially true when you cannot wait for a routine appointment with your GP, or have symptoms that cannot wait until the next working day. In these situations, NHS 111 can provide the support and guidance you need.
Here are some examples of out-of-hours medical situations when using NHS 111 may be appropriate:
Remember: If it's a life-threatening emergency, call 999 immediately. Otherwise, calling NHS 111 for non-life-threatening emergencies outside normal GP hours can help ensure timely care and avoid unnecessary trips to A&E.
NHS 111 is an essential service that provides quick and easy access to medical support and health information. Callers can speak to a qualified health professional, who can assess your symptoms and offer guidance on the best course of action. Whether you have a minor ailment, an urgent health concern or are unsure what to do next, NHS 111 can provide you with accurate and timely advice. Best of all, the service is free, and you can call 24/7. So, if you have any health concerns or need medical advice, don't hesitate to call NHS 111 first.
About Now Patient
Now Patient's online services are available in the US and UK. We help you manage your prescriptions, doctor appointments, test results, health risks and a lot more, all in one place for FREE. US prescriptions are available on a discounted 'cash' basis and delivered across all 50 states by our network of pharmacy providers dispensing FDA-approved generic and branded medications. We do not currently handle commercial insurance, Medicare or Medicaid. UK NHS and private prescriptions are delivered FREE of charge across England & Wales by our UK regulated online pharmacy.
Sources
Disclaimer
Now Patient has taken all reasonable steps to ensure that all material is factually accurate, complete, and current. However, the knowledge and experience of a qualified healthcare professional should always be sought after instead of using the information in this page. Before taking any drug, you should always speak to your doctor or another qualified healthcare provider.
The information provided here about medications is subject to change and is not meant to include all uses, precautions, warnings, directions, drug interactions, allergic reactions, or negative effects. The absence of warnings or other information for a particular medication does not imply that the medication or medication combination is appropriate for all patients or for all possible purposes.
WHY WE BUILT NOW PATIENT
To improve the lives of everyone by making high-quality care accessible and convenient
As technologists and clinicians, we built Now Patient to be more than just an online pharmacy. We are here to improve lives. Our service gives you access to smart features & resources that can help empower you to take control of your health and improve your health outcomes. All this, in one place, for FREE. We strive to bring a fresh perspective to managing health. Not play by the rules. Now Patient can be accessed by downloading the App or using your web browser.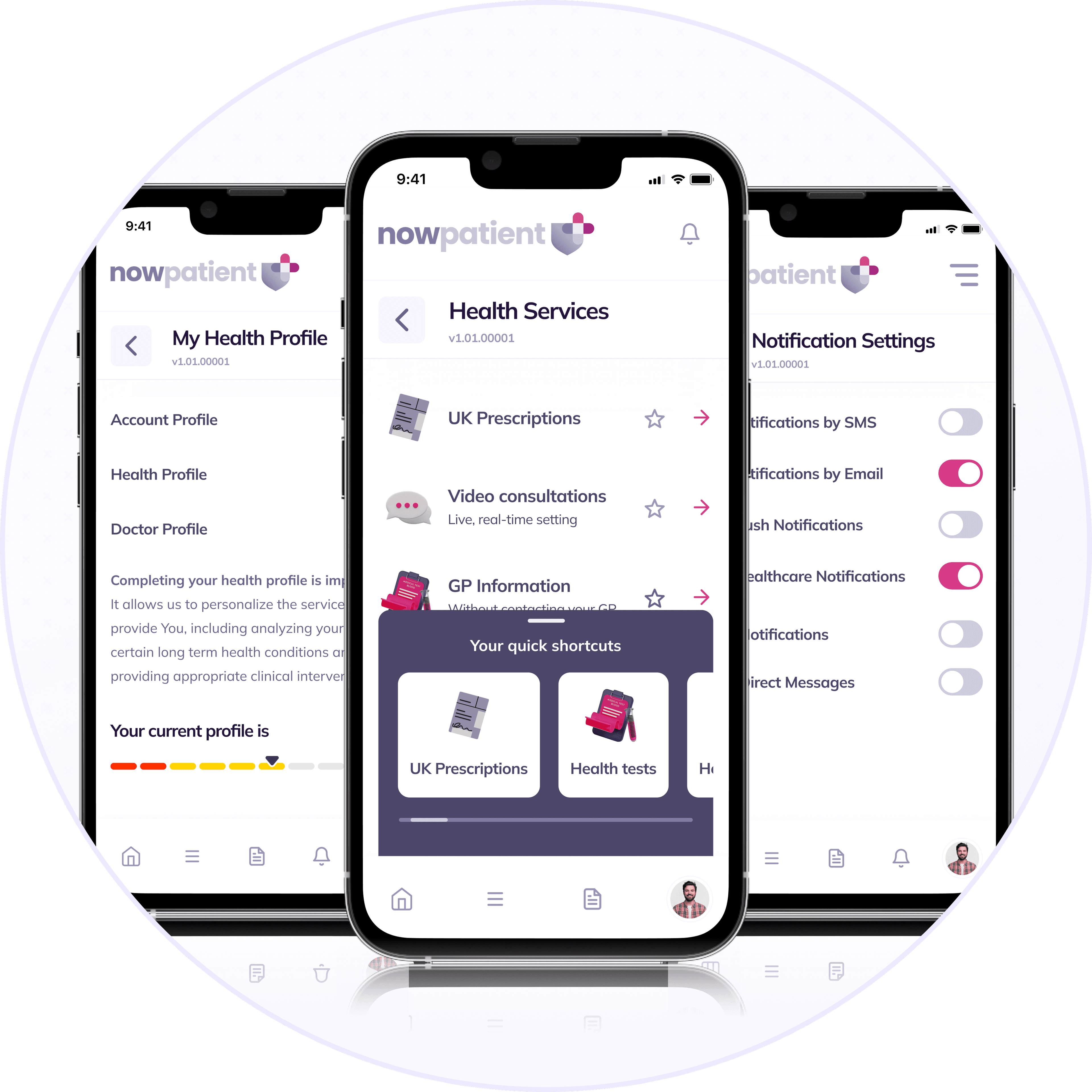 NOW PATIENT
Join the thousands of happy customers in the US and UK already using Now Patient
Manage your health and prescriptions all in one place for FREE. Available to use by downloading the App, or using your web browser.
Your Questions Answered
For your peace of mind, we can answer your health questions quickly
If you want to learn more about the range of services that we provide which can help manage and improve your health, then just click the button below.
Find your answers