What is bird flu?
An online pharmacy should be about more than just prescriptions.
NowPatient is here to improve lives. Our service gives you access to smart features and resources that can help empower you to take control of your health and improve your health outcomes. All this, in one place, for FREE.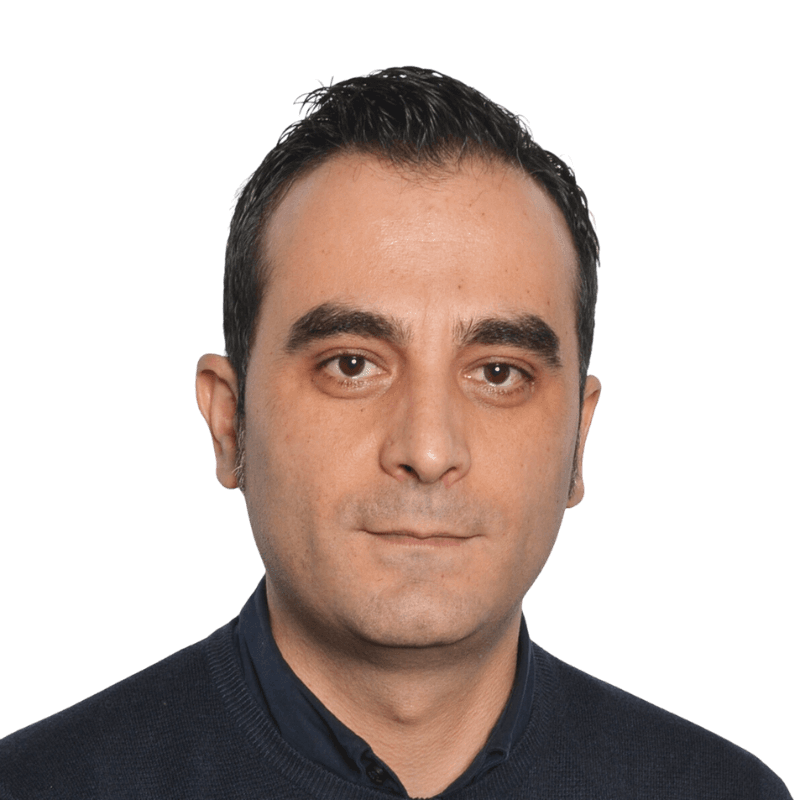 Table of contents
Overview
What is Bird Flu?
How does Bird Flu spread?
What are the symptoms of Bird Flu in humans?
Signs that a bird may be infected with Bird Flu
How does Bird Flu spread to humans?
Different strains of the Bird Flu virus
What happens when Bird Flu is confirmed in poultry or captive birds?
What should you do if you think you've been exposed to Bird Flu?
What is the treatment for Bird Flu?
Seek help
Frequently asked questions
Sources
Have you ever heard of bird flu? Bird flu, also known as avian flu, is an animal disease mainly affecting birds caused by the influenza A virus. Human infections were first reported in 1997 in Hong Kong, although the risk of this happening is very low. In this blog post, we'll look at bird flu, how it spreads and what you should do if you think you may have been exposed to it.
What is Bird Flu?
Bird flu is a notifiable disease; if you do not report it, you're breaking the law. Bird flu is a type of influenza caused by viruses that infect wild birds, poultry (chickens, turkeys) and other animals like pigs. The virus typically does not cause serious illness in birds but can make them sick or even kill them. Most bird flu viruses cannot easily spread from one person to another; however, some strains can cause disease in people and are considered dangerous.
How does Bird Flu spread?
Bird flu, or avian influenza, can spread from birds to humans when a human comes into direct contact with an infected bird's saliva, nasal secretions, droppings or feathers. The virus can also spread through indirect contamination, such as airborne particles from infected poultry being slaughtered or processed. Humans may then inhale these particles or contaminate surfaces other people touch.
What are the symptoms of Bird Flu in humans?
Bird flu, medically known as avian influenza, is an infectious respiratory virus that primarily infects birds but can also spread to humans. The symptoms of bird flu vary widely depending on the strain of bird flu but typically include fever, cough, muscle aches and respiratory distress, including difficulty breathing. Other common symptoms may include headache, sore throat, exhaustion, vomiting and diarrhoea. Most people experience a rapid onset of severe medical issues if infected with bird flu. Therefore, it is important to be informed of potential risks and avoid contact with poultry or other animals if you think you have been exposed to bird flu.
Signs that a bird may be infected with Bird Flu
Bird flu is highly contagious and can quickly take hold in bird populations, making it a major concern for bird owners. The viruses are classified according to their ability to cause severe disease (pathogenicity) in birds as either highly pathogenic avian influenza (HPAI) or low pathogenic avian influenza (LPAI). Understanding the signs that may point to infection is essential, as these will help prompt treatment earlier.
Generally, birds infected with HPAI become very ill, often showing distinctive signs such as an inability to stand, respiratory distress or nervous signs, including seizures or tremors. LPAI is often less obvious, with symptoms such as a drop in egg production, soft-shelled eggs, increased sleeping and changes to water consumption indicative of infection.
In both cases, it is best to contact your vet early so they can help identify any potential problems and promptly start treatment.
How does Bird Flu spread to humans?
While rare, there have been cases of human transmission from birds to humans, which has caused health experts to pay close attention. It can be passed to humans from close contact with infected birds or through airborne transmission from an area with a large concentration of birds, such as poultry farms. The severity of bird flu when passed to humans varies depending on the virus strain, some strains are less dangerous to humans than others, but the virus can cause serious respiratory illness and even death in some cases.
The risk of transmission is higher in areas where people, domestic birds and domestic poultry reside closely together. Most people who contract bird flu are either workers at poultry farms or caregivers for infected migrating birds. These people need to take extra caution not to come into contact with other birds and to regularly wash their hands if they have been exposed to the virus. It is also important for those travelling abroad in areas where avian influenza is present (such as Southeast Asia) to take care and watch out for any signs of severe respiratory problems should they become ill after returning home.
Different strains of the Bird Flu virus
Avian influenza viruses are classified using two specific proteins called H and N. Knowing which type of avian influenza virus is present is important so relevant measures can be taken to prevent further spread or illness.
Bird flu viruses come in many forms, with only four subtypes of particular concern to public health:
H5N1 (1997), H7N9 (2013), H5N6 (2014) and the recently discovered strain, H5NI8.
Though not all bird flu strains are as dangerous to humans, H5N1 remains the most threatening. This form of avian influenza has been responsible for numerous deaths since its first identification in 1997. It continues to be a danger today, nearly 60% of those infected with this virus don't survive.
Though the risk of humans contracting avian influenza is still very low, a new strain – H5 – was detected in January 2022 for the first time in Britain. It's important to keep safe and not make contact with any sick or dead birds. Only five cases have ever been recorded in the UK so far, all related to the H7 virus.
Thankfully, organisations like the World Health Organization continue working diligently towards preventing further infections through research and awareness campaigns.
What happens when Bird Flu is confirmed in poultry or captive birds?
In the UK, the Department of Environment, Food and Rural Affairs (Defra) and its delivery agency, the Animal and Plant Health Agency (APHA), are responsible for responding to and managing avian influenza in poultry and other captive birds.
If bird flu is confirmed in the UK, rapid biosecurity measures are introduced to minimise the spread risk. This generally includes the implementation of a prevention zone and surveillance zone around the outbreak site, which restricts animal movements. All bird keepers must then undertake a risk assessment, including what additional biosecurity measures they must take to reduce their risk of exposure.
A vaccination programme may also be implemented, followed by testing and monitoring for any surrounding farms or premises to ensure that bird flu does not spread further. These UK biosecurity measures are crucial in preventing the spread of bird flu. However, all owners of poultry and captive birds need to remain alert for signs of avian influenza.
What should you do if you think you've been exposed to Bird Flu?
If you think you may have been exposed to bird flu, contact your doctor or healthcare professional immediately for advice on testing and treatment options. It is essential to avoid contact with any birds or their droppings until your doctor has determined that you are not at risk for infection. Additionally, practising good hygiene habits such as washing hands frequently and avoiding touching your nose or eyes with unwashed hands after handling any potentially contaminated materials is crucial.
What is the treatment for Bird Flu?
To treat bird flu, antiviral medications like Tamiflu or Relenza may be prescribed to treat cases or suspected cases of avian influenza. Antivirals help reduce symptoms if one has already become infected.
In addition, getting plenty of rest and taking over-the-counter pain relievers if necessary is important. Hydration is also key – drinking lots of fluids can help your body combat the infection more quickly.
[the_ad id="7760″]
Seek help
Bird flu is a contagious viral infection that affects birds and other animals, including humans in rare cases. While the risk of getting infected with bird flu from an animal source is low, it is important to protect yourself if you think you may have been exposed. Be sure to contact your doctor or healthcare professional right away if you think there's a chance that you were exposed so they can determine whether testing and treatment are necessary for your situation. Taking these simple steps will help keep you safe.
Frequently asked questions
What should I do if I come across a dead bird?
If you encounter a dead bird, it is important to approach the situation cautiously. Firstly, do not attempt to touch or handle the bird, as bird flu can be transmitted from birds to humans if touched without protective clothing. It is also advisable to avoid contact with any bird droppings that the bird may have left behind. You should contact your local bird rescue or animal control centre for advice about what to do next to ensure that bird flu does not spread further. Doing so can help protect both yourself and other bird species in the UK.
When to report dead wild birds and how to report them in England, Scotland and Wales, please visit https://www.gov.uk/guidance/report-dead-wild-birds for further information.
Is bird flu dangerous to humans?
Different types vary in severity, and H5N1 has a higher mortality rate than other forms. Those infected can face serious symptoms such as sepsis, pneumonia and organ failure that require urgent medical attention if you have recently come into contact with birds.
Why are we concerned about bird flu outbreaks?
Bird flu outbreaks are a serious cause for concern because they can result in severe human illnesses. Certain circumstances increase the risk of transmission from birds to humans, such as when people and domesticated animals live or work near one another – like during culling operations. Scientists are concerned that the bird flu virus may combine with a human flu virus and mutate, making transmission between humans possible and creating pandemic-level threats.
Sources
Medical Disclaimer
NowPatient has taken all reasonable steps to ensure that all material is factually accurate, complete, and current. However, the knowledge and experience of a qualified healthcare professional should always be sought after instead of using the information in this page. Before taking any drug, you should always speak to your doctor or another qualified healthcare provider.
The information provided here about medications is subject to change and is not meant to include all uses, precautions, warnings, directions, drug interactions, allergic reactions, or negative effects. The absence of warnings or other information for a particular medication does not imply that the medication or medication combination is appropriate for all patients or for all possible purposes.
What is NowPatient
Telehealth and Online Pharmacy
NowPatient is a licensed online pharmacy and doctor service that is available around the world. Our service is FREE and packed with useful features that can benefit your health like medication reminders, medically approved symptoms checker, UK NHS online pharmacy, private treatment plans, Rx Advantage card, health conditions information, genetic testing, home test kits, health risks, pollen meter, air quality monitor, and lots more!
See how we are different
WHY WE BUILT NOWPATIENT
To improve the lives of everyone by making high-quality care accessible and convenient
We are here to improve lives. Our service gives you access to smart features and resources that can help empower you to take control of your health and improve your health outcomes. All this, in one place, for FREE. We strive to bring a fresh perspective to managing health. NowPatient can be accessed by downloading the App or using your web browser.
Download our app today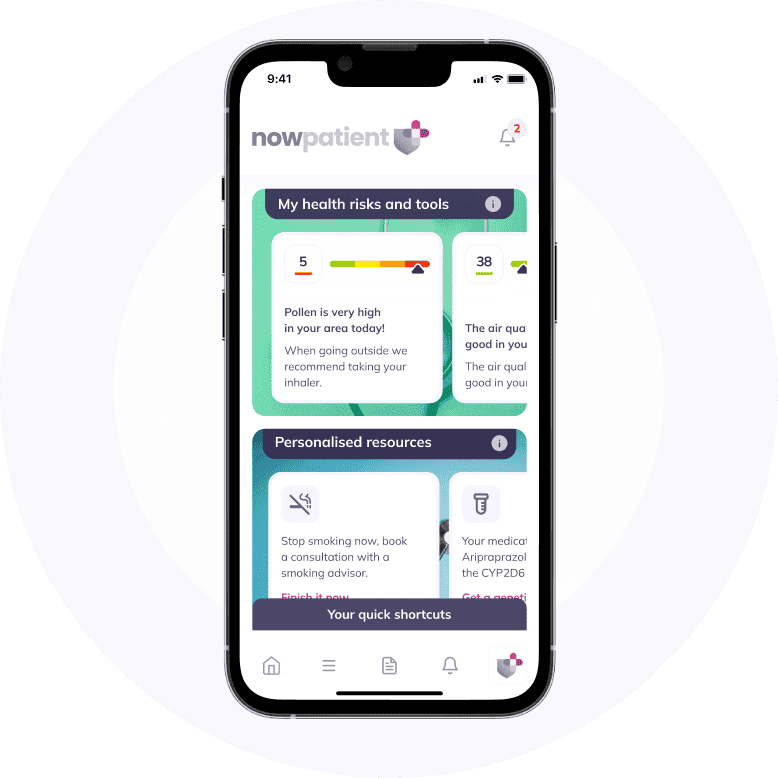 Can I trust NowPatient
Meet our medical review team
Trustworthy and reliable medical content authored and reviewed by our experienced team of medical professionals from the United Kingdom and the United States. Learn more about our team and our editorial process by clicking on the buttons below.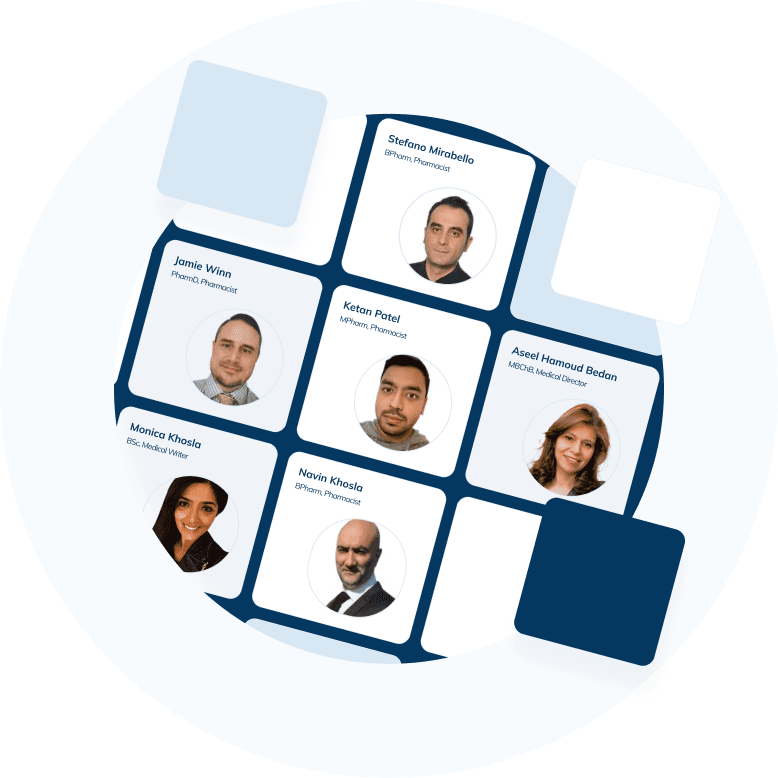 Your Questions Answered
For your peace of mind, we can answer your questions quickly
We have a comprehensive list of FAQ's on each feature page. Alternatively, for broader questions around our service just click the button below.
Find your answers