Stefano Mirabello
Pharmacist / B.Pharm
Every year on the last day of February, individuals, organisations, and patient advocacy groups around the world come together to recognise and celebrate Rare Disease Day. This awareness day was first established in 2008 by EURORDIS, a European organisation that works to improve the lives of those living with rare diseases. The purpose of this day is to raise awareness about rare diseases, as well as provide support and hope to those affected by them. Patient organisations, healthcare providers, researchers, policymakers and other members of the rare disease community organise Rare Disease Day events.
What are Rare Diseases?
It is estimated that there are approximately 7,000 rare diseases, also known as orphan diseases, which affect an estimated 350 million people worldwide. Rare diseases are usually genetic and can affect any age, gender or race. While they each have their own set of symptoms and outcomes collectively they lack resources to find proper diagnoses, treatments and cures.
A rare disease may remain undiagnosed for a lifetime due to the complexity of these disorders and the limited number of healthcare professionals with expertise in the conditions. In recent years much progress has been made through improved research efforts that focus on understanding rare diseases, but the challenges for those affected by them remain imposing.
The impact of Rare Diseases on patients
Living with a rare disease can be extremely challenging for patients, their families and caregivers due to the lack of information and resources available. Many times, rare disease patients must rely on their research to find treatments or even basic information about their condition. This can be very isolating for patients and may lead to feelings of fear or hopelessness because they do not know what the future holds in store for them.
Additionally, many rare diseases have no known cure or treatment, which can make managing symptoms difficult over time. These symptoms often affect patients' physical and emotional health, which can lead to further complications down the road if left untreated. Finding support from family members and other patients also suffering from similar conditions can help reduce some of this emotional burden over time.
The benefits of recognising Rare Diseases
Recognising these conditions can have multiple benefits for patients and their families. First, it can help bring attention to these issues and increase funding for rare disease research, clinical trials into treatments and cures for these conditions. This can lead to improved diagnostics, better treatments and ultimately enhanced quality of life in patients' lives.
Additionally, recognising rare diseases also serve as a source of support for those affected by them. It can be comforting to know that others understand what you are going through and are willing to stand up for you. Finally, recognising rare diseases helps raise general public awareness about them – when more people know about a disorder, they will be more likely to seek medical advice if they think they may be affected by one or more rare disease themselves.
How can we help?
The Rare Disease Day on February 28th 2023, will be a global event to raise awareness of rare diseases and the challenges those affected face. By hosting events like walks, runs or talks about rare diseases, individuals, organisations and communities can come together in support of patients. Posters in public places or media campaigns can also help spread the word, as well as a link to official websites offering more information. Individuals can join online forums dedicated to educating people about specific illnesses and showing solidarity with sufferers. Having this type of global conversation would have a significant impact on raising awareness for those living with a rare disease.
More information
On Rare Disease Day, let's come together to show support for those living with a rare disease and advocate for global health equity. NORD (National Organization for Rare Disorders – US) proudly partners with EURORDIS (Rare Diseases – Europe) and other National Alliance partners across the globe in this vital mission. To learn more about their international campaign, visit the Rare Disease website – where you'll find valuable information designed to help create positive change that will benefit everyone impacted by these conditions.
Share posts about Rare Disease Day on social media and inspire friends to raise rare disease awareness. Don't forget to use the hashtags #LightUpForRare and #ShareYourColours
To watch the official video for Rare Disease Day 2023, visit https://youtu.be/bCxtcx5RYKE
About Now Patient
Now Patient's online services are available in the US and UK. We help you manage your prescriptions, doctor appointments, test results, health risks and a lot more, all in one place for FREE. US prescriptions are available on a discounted 'cash' basis and delivered across all 50 states by our network of pharmacy providers dispensing FDA-approved generic and branded medications. We do not currently handle commercial insurance, Medicare or Medicaid. UK NHS and private prescriptions are delivered FREE of charge across England & Wales by our UK regulated online pharmacy.
Sources
Disclaimer
Now Patient has taken all reasonable steps to ensure that all material is factually accurate, complete, and current. However, the knowledge and experience of a qualified healthcare professional should always be sought after instead of using the information in this page. Before taking any drug, you should always speak to your doctor or another qualified healthcare provider.
The information provided here about medications is subject to change and is not meant to include all uses, precautions, warnings, directions, drug interactions, allergic reactions, or negative effects. The absence of warnings or other information for a particular medication does not imply that the medication or medication combination is appropriate for all patients or for all possible purposes.
WHY WE BUILT NOW PATIENT
To improve the lives of everyone by making high-quality care accessible and convenient
As technologists and clinicians, we built Now Patient to be more than just an online pharmacy. We are here to improve lives. Our service gives you access to smart features & resources that can help empower you to take control of your health and improve your health outcomes. All this, in one place, for FREE. We strive to bring a fresh perspective to managing health. Not play by the rules. Now Patient can be accessed by downloading the App or using your web browser.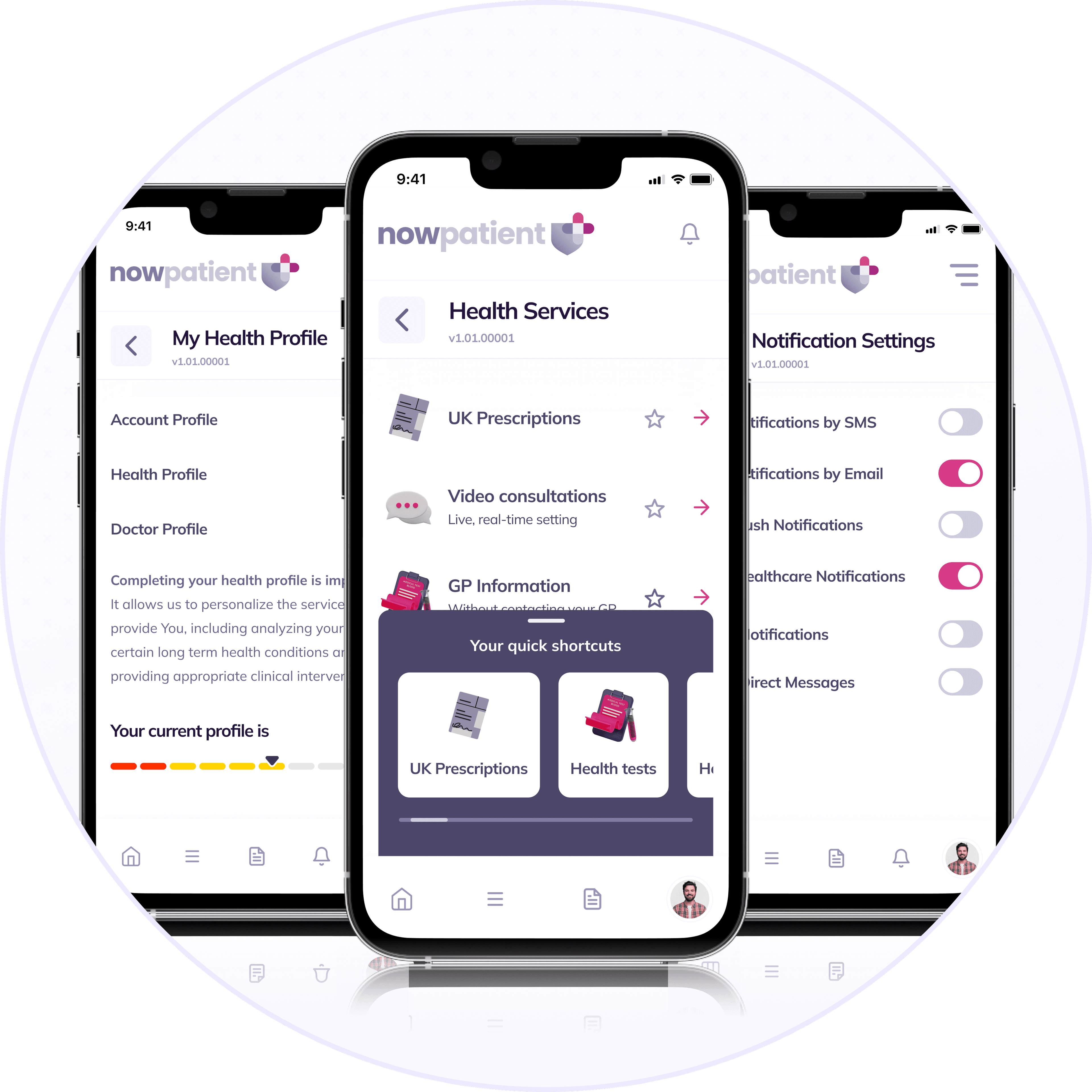 NOW PATIENT
Join the thousands of happy customers in the US and UK already using Now Patient
Manage your health and prescriptions all in one place for FREE. Available to use by downloading the App, or using your web browser.
Your Questions Answered
For your peace of mind, we can answer your health questions quickly
If you want to learn more about the range of services that we provide which can help manage and improve your health, then just click the button below.
Find your answers