/
Blog
/
What Is Telemedicine, and How Does It Work?
What Is Telemedicine, and How Does It Work?
11 Sep 2023

Rajive Patel
Medical Writer / B.Pharm
Image source: Pexels
Telemedicine also known as telehealth is the use of technology that lets healthcare providers and people seeking medical services connect virtually. It is revolutionizing the way patients receive medical care. With the advancement of technology, telemedicine offers numerous benefits, making it a convenient and efficient option for healthcare delivery. How does telemedicine work? What are the benefits of telemedicine services? How it is transforming the healthcare industry? In this article, we will explore these questions.
1. Comfort and convenience
One of the key advantages of telemedicine is the comfort and convenience it provides to patients. Instead of having to travel to a doctor's office or clinic, patients can have virtual appointments from the comfort of their own homes. This eliminates the need for commuting, finding parking, and waiting in a crowded waiting room. A video chat requires access to a computer with a webcam, or to a smartphone or tablet, as well as good internet connectivity making it easier to fit a virtual visit into their busy schedules. Additionally, telehealth services allow patients to receive care without taking time off from work or arranging for childcare.
2. Increased access to care
Telemedicine has the potential to increase access to healthcare services, especially for individuals in underserved or rural areas. Telemedicine providers bridge the gap in areas where healthcare facilities are limited by connecting patients with healthcare providers remotely. This means that patients can receive medical attention from specialists who may not be available locally. Telemedicine also eliminates the need for patients to travel long distances to access specialized care, saving them time and money.
3. Cost savings
Another significant advantage of telemedicine is cost savings for both patients and healthcare providers. Virtual appointments can be more cost-effective compared to in-person visits, as they eliminate the need for expenses such as transportation, parking fees, and childcare. Additionally, telemedicine can reduce healthcare provider costs, such as overhead expenses associated with maintaining physical office spaces. This cost savings can be particularly beneficial for patients with chronic illnesses who require frequent follow-up appointments.
4. Improved health outcomes
Telemedicine appointments have the potential to improve health outcomes by increasing patient engagement and adherence to treatment plans. With virtual appointments, patients have the convenience of easy access to their healthcare professionals, which can lead to better communication and collaboration. Patients are more likely to follow through with their treatment plans when they have regular contact with their healthcare providers. Telemedicine also enables healthcare providers to monitor patients remotely, allowing for early intervention, timely adjustments to treatment plans and providing health information and medical advice.
5. Enhanced patient experience
The use of telemedicine can enhance the overall patient experience by reducing wait times and improving satisfaction. With virtual appointments, a telemedicine visit means patients can avoid long wait times in crowded waiting rooms. They can also receive timely care, as virtual appointments can be scheduled more efficiently than in-person visits. Additionally, telemedicine allows patients to choose healthcare providers based on their expertise and reputation, rather than being limited to local options.
6. Efficient workflow for healthcare providers
Telemedicine streamlines the workflow for healthcare providers, allowing them to see more patients in less time. With virtual appointments, healthcare providers can conduct consultations without the need for physical space or equipment. They can review patient records, discuss symptoms, and provide diagnoses and treatment plans remotely. This efficiency allows healthcare providers to allocate their time more effectively and provide care to a larger number of patients.
7. Continuity of care
Telemedicine enables seamless continuity of patient care, especially for patients with chronic conditions. With virtual appointments, patients can have regular check-ins with their healthcare providers, ensuring that their conditions are monitored and managed effectively. Telemedicine also allows for easier access to specialists, making it easier for patients to receive multidisciplinary care. This continuity of care leads to better patient outcomes and improved quality of life.
8. Remote monitoring
Telemedicine facilitates remote monitoring of patients, enabling healthcare providers to track vital signs and symptoms without the need for in-person visits. This is particularly useful for patients with chronic diseases, like diabetes (high blood sugar), high blood pressure, or mental health who require ongoing monitoring. With the use of wearable devices and remote monitoring technologies, healthcare providers can receive real-time data and intervene promptly if any abnormalities are detected. Remote monitoring promotes proactive healthcare management and early detection of potential health issues.
9. Patient education and empowerment
Telemedicine offers opportunities for patient education and empowerment. Through virtual appointments, healthcare providers can provide medical education to patients about their conditions, treatment options, and self-care strategies. Patients can receive personalized guidance and resources to manage their health effectively. Telemedicine also enables patients to take an active role in their healthcare by providing them with access to their medical records and the ability to track their progress over time.
10. Public health benefits
Telemedicine has significant public health benefits, particularly during public health crises such as the COVID-19 pandemic. By reducing the need for in-person visits, telemedicine helps minimize the spread of infectious diseases. It allows individuals to seek medical care without risking exposure to crowded healthcare settings. Telemedicine also enables healthcare providers to triage patients remotely, identifying those who require immediate in-person care and directing others to appropriate virtual services.
In conclusion, telemedicine offers numerous advantages for healthcare delivery. It provides comfort and convenience to patients, increases access to care, saves costs, improves health outcomes, enhances the patient experience, streamlines workflow for healthcare providers, ensures continuity of care, enables remote monitoring, promotes patient education and empowerment, and has public health benefits. As technology continues to advance, telemedicine is expected to play an increasingly important role in the future of healthcare.
11. What is the difference between Synchronous and Asynchronous telemedicine?
Telemedicine, which refers to the use of electronic information and telecommunication technologies to support and promote long-distance clinical health care and prescribing, can be divided into synchronous and asynchronous modes. Each mode serves different purposes and has its own advantages and limitations. Here's a breakdown:
Synchronous Telehealth

This involves real-time communication between the patient and the healthcare provider. It's similar to a face-to-face visit but done via a live video chat.
Advantages:
Immediate feedback: Both patients and providers can ask and answer questions in real-time
Builds rapport: The real-time interaction can help in establishing a better patient-provider relationship
More comprehensive: Providers can guide patients in real-time to adjust camera angles for a better view or clarify any uncertainties
Limitations:
Requires both parties to be available at the same time
Requires reliable high-speed internet connection and appropriate hardware (like a camera, microphone, etc.)
Possible technical difficulties like lag, which can interrupt the flow of consultation
Asynchronous Telehealth (often called "Store-and-Forward")
This does not involve real-time interaction. Instead, the patient or local clinician collects the necessary data and sends it to the specialist or provider, who reviews it at a later time and sends back their recommendations.
Advantages:
Flexibility: It doesn't require both parties to be available at the same time
Can be more efficient for certain kinds of consultations, especially when the healthcare provider needs time to review data before making a decision
Suitable for areas with lower bandwidth internet as real-time communication isn't necessary
Limitations:
Lack of real-time interaction: The provider cannot ask immediate follow-up questions or get clarifications
Delayed feedback: Patients have to wait for the provider to review their information and respond
Might not be suitable for situations where an immediate diagnosis or decision is needed.
At Now Patient, synchronous telemedicine is at the heart of every clinical service we provide. We firmly believe that a face-to-face consultation can reveal a lot more about an individual's health situation.  It offers benefits of Immediate feedback, rapport building between patient and clinician; and the ability for our clinicians to guide patients in real-time.
About Now Patient
Now Patient's online services are available in the US and UK. We help you manage your prescriptions, doctor appointments, test results, health risks and a lot more, all in one place for FREE. US prescriptions are available on a discounted 'cash' basis and delivered across all 50 states by our network of pharmacy providers dispensing FDA-approved generic and branded medications. We do not currently handle commercial insurance, Medicare or Medicaid. UK NHS and private prescriptions are delivered FREE of charge across England & Wales by our UK regulated online pharmacy.
References:
Disclaimer
Now Patient has taken all reasonable steps to ensure that all material is factually accurate, complete, and current. However, the knowledge and experience of a qualified healthcare professional should always be sought after instead of using the information in this page. Before taking any drug, you should always speak to your doctor or another qualified healthcare provider.
The information provided here about medications is subject to change and is not meant to include all uses, precautions, warnings, directions, drug interactions, allergic reactions, or negative effects. The absence of warnings or other information for a particular medication does not imply that the medication or medication combination is appropriate for all patients or for all possible purposes.
WHY WE BUILT NOW PATIENT
To improve the lives of everyone by making high-quality care accessible and convenient
As technologists and clinicians, we built Now Patient to be more than just an online pharmacy. We are here to improve lives. Our service gives you access to smart features & resources that can help empower you to take control of your health and improve your health outcomes. All this, in one place, for FREE. We strive to bring a fresh perspective to managing health. Not play by the rules. Now Patient can be accessed by downloading the App or using your web browser.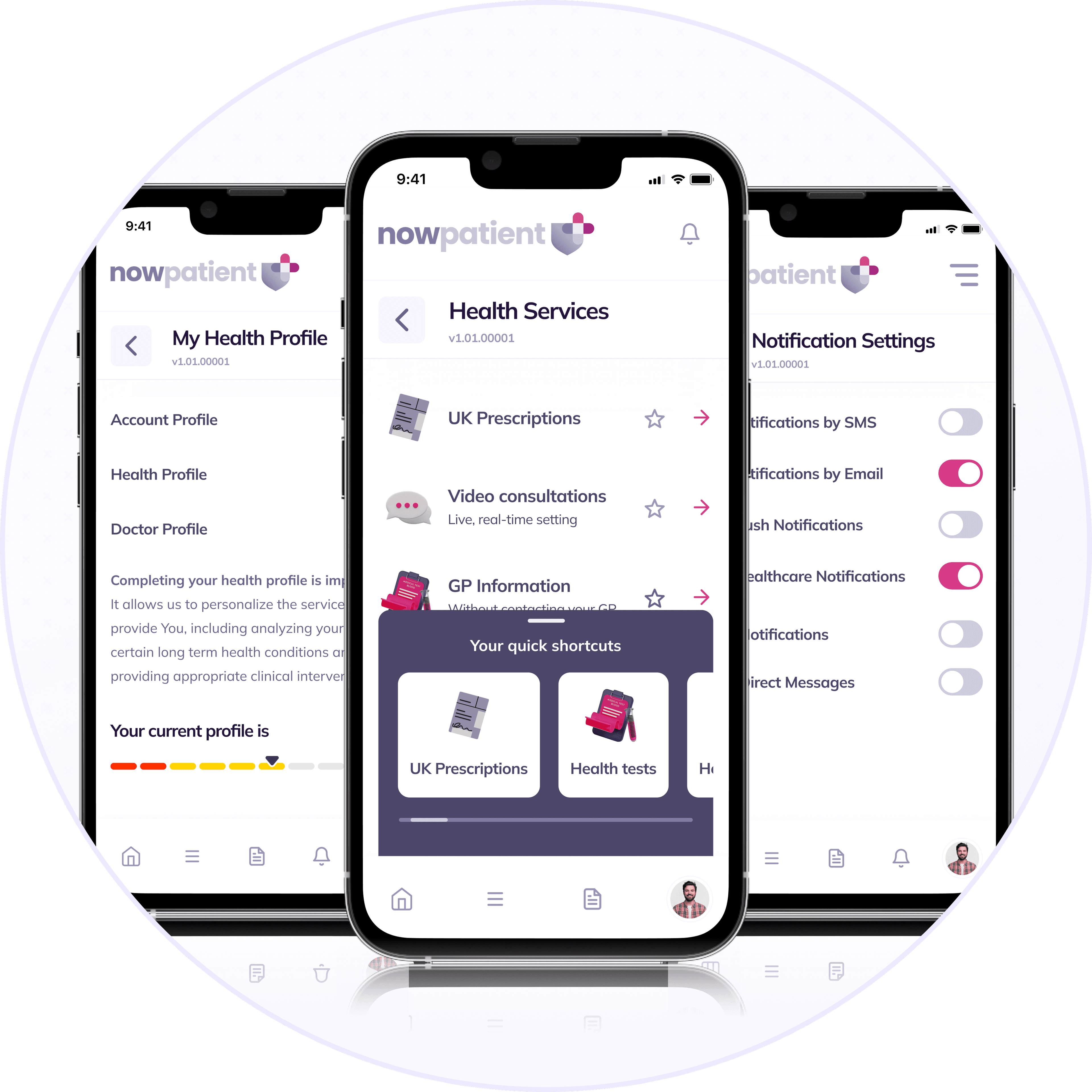 NOW PATIENT
Join the thousands of happy customers in the US and UK already using Now Patient
Manage your health and prescriptions all in one place for FREE. Available to use by downloading the App, or using your web browser.
Your Questions Answered
For your peace of mind, we can answer your health questions quickly
If you want to learn more about the range of services that we provide which can help manage and improve your health, then just click the button below.
Find your answers