Stefano Mirabello
Pharmacist / B.Pharm
Are you looking to make a positive change in your life? If so, have you considered taking up running as a form of exercise? Running can not only improve your physical health, but it can also have profound effects on mental health, well-being, self esteem and overall quality of life. From controlling stress to boosting confidence, the benefits of running are huge, something that many people might never even consider! You don't need to be a marathon runner to reap all the benefits of running. Let's take a look at some of the positive effects running can have on your life.
Physical benefits of running
Physical activity is a vital part of staying healthy. Running is a great form of exercise that can greatly improve cardiovascular health and overall physical fitness. When running, the body increases its heart rate, and it continues to stay elevated during the activity. As a result, the muscles become more efficient in using oxygen, helping your heart and lungs become healthier. Since running causes your heart to work faster, it strengthens muscle tissue throughout your body, allowing for increased endurance when exercising.
It also helps improve body composition by increasing muscle tissue while reducing fat mass. Furthermore, running can aid in better motor coordination as you become more efficient at lower speeds and sharpen reflexes. Additionally, running helps strengthen the muscles in your legs and core, improving posture and balance. It also helps with weight maintenance as it burns calories quickly. Finally, running releases endorphins that make you feel happy and energized during the day.
If running regularly, individuals are likely to experience weight loss due to the extra calories that must be burned during this strenuous activity. This leads to many additional physical benefits including lowered blood pressure, lower risk of heart disease and stroke and an overall decrease in strain on the body's cardiovascular system.
It's important to note before taking up running, or any other cardio activity for that matter, to check with your doctor first. Your doctor will be able to offer personalised advice depending on your age, lifestyle and any medical conditions you may have that could make cardio especially risky. With the correct guidance from your doctor, you will be better equipped to enjoy the full benefits of cardio exercise in a way that's safe for your body.
Mental benefits of running
Running offers many mental health benefits, such as improved concentration and stress reduction. The physical exertion of running directly affects your mood, creating a natural antidepressant and reducing depressive symptoms. Furthermore, due to the release of endorphins throughout your workout, regular running may promote improved sleep and a sense of general well-being. Even if you're just getting back into exercise for the first time, running could be an excellent way to reduce psychological distress and foster self-confidence. Ultimately, studies have demonstrated that individuals that take part in regular aerobic exercise become happier people with increased mental clarity. If you're looking for a way to make peace with your mind as well as your body, consider taking up running today!
It also improves sleep quality which is necessary for concentration, productivity and overall health throughout the day. You may even find that spending time outside while running in nature gives you a feeling of peace and relaxation away from the hustle and bustle of everyday life.
Health benefits of running
Running is one of the best forms of exercise for overall health and wellness. Many studies have found that people who run have lower rates of cardiovascular disease, heart attacks, type 2 diabetes, obesity, high blood pressure and depression. Running has significant heart health benefits as it is an aerobic activity that increases your heart rate, improves blood circulation and cardiovascular fitness.
Running also helps build strong bones reducing your risk of developing osteoporosis, boosts your immune system, promotes healthier skin and hair, increases endorphin production for a natural mood enhancer, decreases stress levels, reduces cholesterol levels, enhances performance in other sports, fights age-related cognitive decline and may even help reduce the risk of developing certain types of cancer e.g. breast cancer
Finally, for those looking to lose weight or stay in shape consistently – regular exercise is a great way to achieve those goals. With so many clear health benefits, it's easy to see why running should be considered as part of an overall fitness regime.
Top 10 tips for new runners
For those just beginning their fitness journey as a non-runner, it helps to have knowledge and trustworthy tips for success. It can be overwhelming to start off running with no idea where to begin or what goals you should set for yourself. Fortunately, there are plenty of resources that can help get you started. From getting the right shoes to setting achievable goals, these top 10 tips for new runners will help anyone make the most out of their running experience. Whether you're a beginner or an experienced pro looking to push yourself further, these simple tips are the perfect way to get started on your road to success.
Set reasonable expectations for yourself. Start running 2 days a week at an easy intensity and gradually increase from there to eventually completing a half marathon!
Layer your clothing appropriately while running so that you don't experience any comfort issues due to the changes in temperature throughout your run
Find a running buddy if possible so that you can stay accountable and motivated or join a local running club
Warm up your muscles before getting started with some dynamic movements like walking lunges or high knees
Be sure to use the right running shoes that provide the right support and cushioning for the conditions of the terrain that you will be running on
Try to vary up the distances that you run as this not only gives you different experiences mentally but also provides a variety of physical difficulty and keeps things interesting!
Keep hydrated. Bring water or sports drinks with you whenever possible as staying hydrated is key!
Being mindful of your nutrition is incredibly important. Make sure to have enough whole grains and proteins in order to stay energized throughout your runs
Supplement your runs with other types of exercises such as strength training which will strengthen various muscles used during running like legs and core muscles
"Cool down" after each workout session which helps remediate any stiffness or discomfort associated with the physical strain during runs
Following these ten tips should help give runners a positive start towards achieving their fitness goals!
Running is one of the best ways to get fit without having to join a gym or buy expensive equipment all you need is a pair of good trainers! By regularly engaging in this type of exercise, you will enjoy physical benefits such as improved cardiovascular endurance, stronger muscles in your legs and core, better posture and balance; plus mental benefits like improved moods through increased endorphin levels, reduced stress levels due to lower cortisol levels; plus improved sleep quality from increased melatonin production throughout the night. So lace up those trainers today, you won't regret it!
About Now Patient
Now Patient's online services are available in the US and UK. We help you manage your prescriptions, doctor appointments, test results, health risks, and a lot more, all in one place for FREE. If you are in the United States, you could enjoy savings using Now Patient's mail-order pharmacy or use the Now Patient Rx Advantage Card at over 65,000 pharmacies, with savings of up to 90% on popular FDA-approved brand and generic medications like Ozempic, Mounjaro, clopidogrel and lots more. We do not currently handle commercial insurance, Medicare or Medicaid. UK NHS and private prescriptions are delivered FREE of charge across England & Wales by our UK NHS online pharmacy.
Sources
Disclaimer
Now Patient has taken all reasonable steps to ensure that all material is factually accurate, complete, and current. However, the knowledge and experience of a qualified healthcare professional should always be sought after instead of using the information in this page. Before taking any drug, you should always speak to your doctor or another qualified healthcare provider.
The information provided here about medications is subject to change and is not meant to include all uses, precautions, warnings, directions, drug interactions, allergic reactions, or negative effects. The absence of warnings or other information for a particular medication does not imply that the medication or medication combination is appropriate for all patients or for all possible purposes.
WHY WE BUILT NOW PATIENT
To improve the lives of everyone by making high-quality care accessible and convenient
We are here to improve lives. Our service gives you access to smart features & resources that can help empower you to take control of your health and improve your health outcomes. All this, in one place, for FREE. We strive to bring a fresh perspective to managing health. Not play by the rules. Now Patient can be accessed by downloading the App or using your web browser.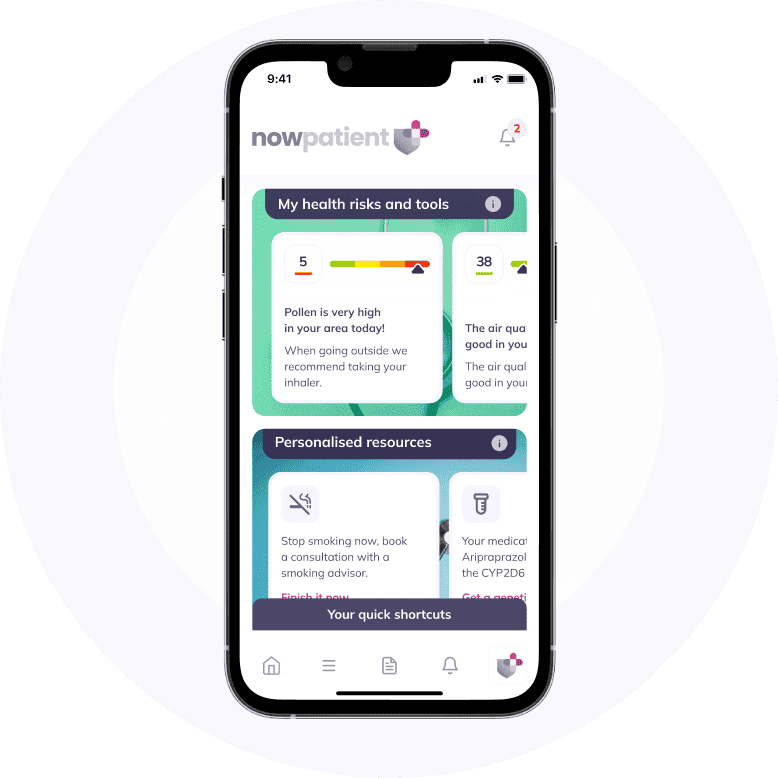 Your Questions Answered
For your peace of mind, we can answer your health questions quickly
If you want to learn more about the range of services that we provide which can help manage and improve your health, then just click the button below.
Find your answers