Personalized Learning
The personalized learning feature is an important part of our service to you. We deeply believe that both education and learning are crucial to your health and well-being. This will ultimately help you make informed choices about your health, avoid illnesses, and minimize harmful habits. We regularly provide you content and flag community support forum rooms to join, that relate to your condition. You will find this showing up in useful feeds on your dashboard.
How do you decide what information I see, where and when?
When you register an account with NowPatient you will see a widget on your dashboard called PAM (Patient Activation Measure). The widget will prompt you to complete a short survey. After you have completed the short survey, the widget will display a score. The score is between 0 and 100. Depending on your score you will be classified as Level 1, Level 2, Level 3 or Level 4. We use this score to work out how active we need to be in terms of providing you with health education and resources. This allows us to target our clinical resources most effectively.
What is PAM?
PAM is a clinically proven scoring system that is used regularly in the UK and US to assess your beliefs about what your role should be in your overall care, your knowledge and your confidence in managing your own health, and your existing use of self-management behaviours.
How do I know if PAM is actually useful?
PAM has been extensively researched and has been shown to be a valid measure of patient activation. Studies have shown that higher PAM level scores are associated with healthier behaviours, better health outcomes, and lower healthcare costs.
Step 1
Navigate to the dashboard and you will see the PAM widget
If you have not completed the PAM questionnaire, in your health profile, there will be no result showing on the widget.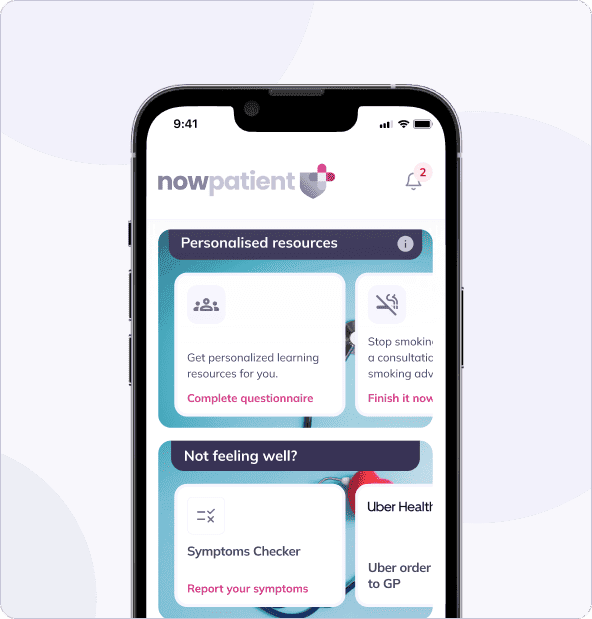 Step 2
Complete the questionnaire
Please 'click' the widget and this will take you to your health profile, where you can complete the questionnaire.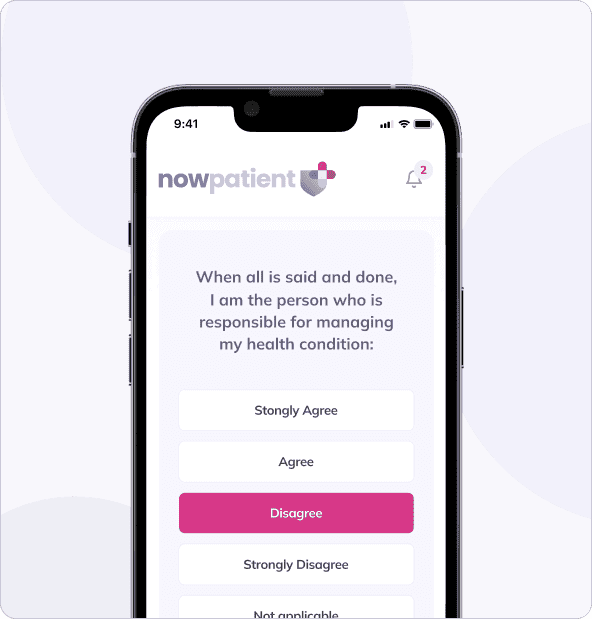 Step 3
Find your results
After completing the questionnaire, navigate to the dashboard to locate the PAM widget. You will now see a score based between 1 and 4.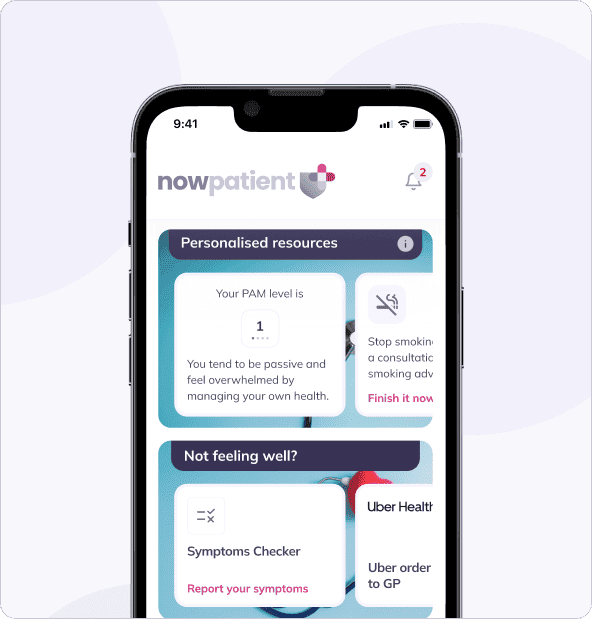 What are the PAM level scores?
Individuals tend to be passive and feel overwhelmed by managing their own health.
Individuals may lack the knowledge and confidence to manage their health.
Individuals are beginning to take action but may still lack confidence and skills to support their behaviours.
Individuals have adopted many of the behaviours needed to manage their health but may not be maintaining them over time.
What do the scores mean for me?
The highest score is Level 4. The lowest score is Level 1. The higher the score the less likely you need support. The lower the score, the more likely you will benefit from more targeted support around your health condition. Based on your score, we will adjust the frequency and methods we use to proactively engage with you.
Updating your scores?
Because PAM is a dynamic indicator, we require users to re-submit the questionnaire once every 3 months. This allows us to make sure that you are receiving the right frequency of health information, education, and most importantly support. When you are due to update your questionnaire, we will send you a reminder on 'Your Required Actions' on your account dashboard.
Give me an example of how you tailor engagement with me?
NowPatient continuously assesses your health profile and your PAM score. We use this information to predict which resources we believe may be beneficial to you and at what frequency. For example, if you have Heart Disease and a lower PAM score, we will publish Heart Disease related content and educational resources into your account dashboard through a smart feed. We may also recommend community forum rooms that focus on Heart Disease so you can get peer assistance.
Can I trust the information you supply me with?
We have partnered with Drug Companies, Health Charities, and the NHS to bring you various health information resources. This includes information about Healthy Living, Medicines A-Z, and Conditions A-Z. This authoritative content comes from a known source and can be trusted, unlike some other information searched on the internet. We also have a comprehensive list of health-related articles covering many conditions that are written by our in-house team of clinicians. Our editorial process sets out the standards of the content we produce for you.
Data Security
Our Commitment to You.
Find out more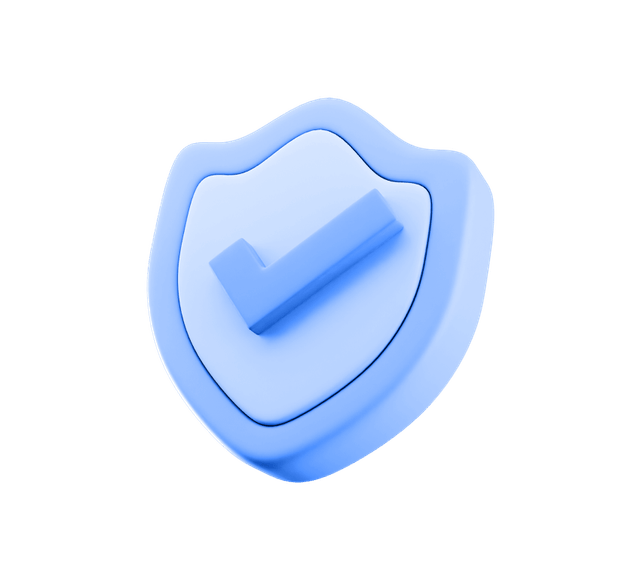 What is NowPatient
Telehealth and Online Pharmacy
NowPatient is a licensed online pharmacy and doctor service that is available around the world. Our service is FREE and packed with useful features that can benefit your health like medication reminders, medically approved symptoms checker, UK NHS online pharmacy, private treatment plans, Rx Advantage card, health conditions information, genetic testing, home test kits, health risks, pollen meter, air quality monitor, and lots more!
See how we are different
WHY WE BUILT NOWPATIENT
To improve the lives of everyone by making high-quality care accessible and convenient
We are here to improve lives. Our service gives you access to smart features and resources that can help empower you to take control of your health and improve your health outcomes. All this, in one place, for FREE. We strive to bring a fresh perspective to managing health. NowPatient can be accessed by downloading the App or using your web browser.
Download our app today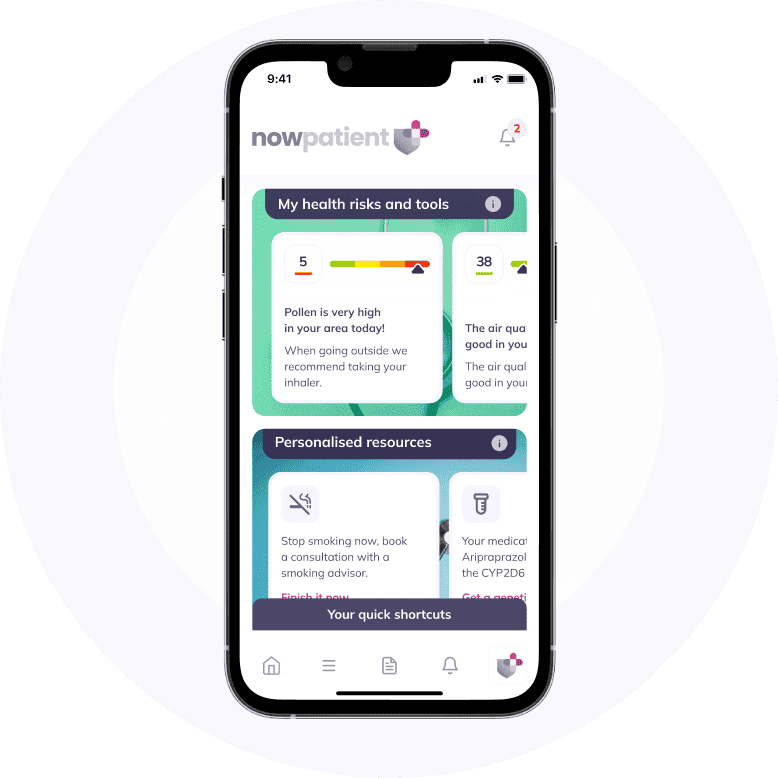 Can I trust NowPatient
Meet our medical review team
Trustworthy and reliable medical content authored and reviewed by our experienced team of medical professionals from the United Kingdom and the United States. Learn more about our team and our editorial process by clicking on the buttons below.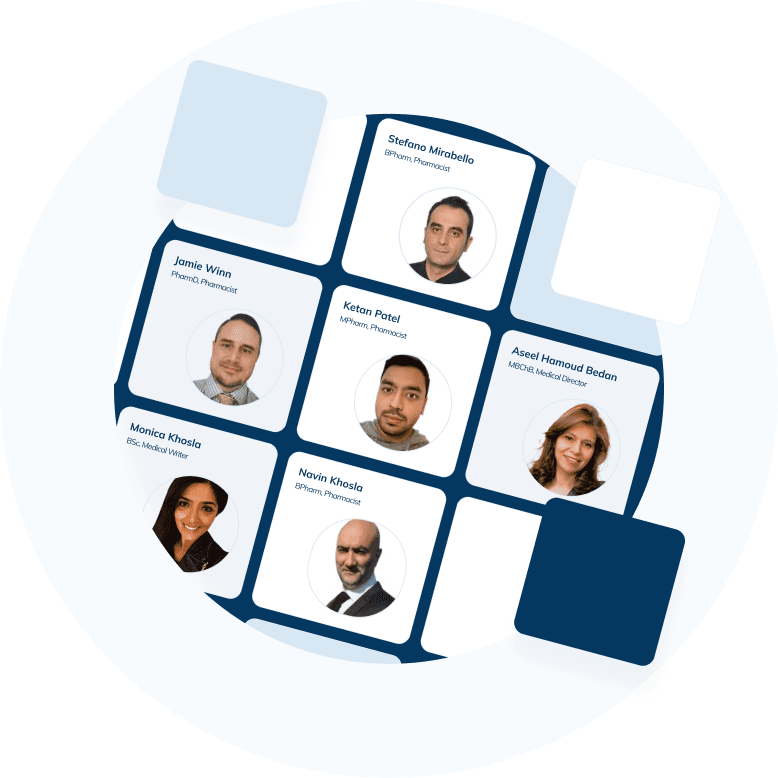 Your Questions Answered
For your peace of mind, we can answer your questions quickly
We have a comprehensive list of FAQ's on each feature page. Alternatively, for broader questions around our service just click the button below.
Find your answers