/
Blog
/
Why is taking viagra without a prescription dangerous?
Why is taking viagra without a prescription dangerous?
29 Jun 2023

Stefano Mirabello
Pharmacist / B.Pharm
Viagra's popular for a reason. It works. If you have erectile dysfunction chances are it can help.
But what if you don't have any issues getting erections and you want to take Viagra to be better in bed? And what if you don't want to talk to a doctor and you buy it without a prescription? Is there any harm? Can you take Viagra just for fun?
Well if you do you'll be putting yourself at risk. Here's why.
What is Viagra and what is it for?
Viagra is the brand name of a drug called sildenafil. It's a prescription medication that's used to treat erectile dysfunction (ED); when a man can't get or maintain an erection firm enough for sex.
It's taken as a pill which is swallowed and it works by improving the flow of blood to the penis, helping it get and stay hard. Cialis (tadalafil) and Levitra (vardenafil) are alternative medications that work in a similar way. They're proven treatments for ED, but sometimes they're taken by men with no history of erection problems, often recreationally.
What does taking Viagra recreationally mean?
A recreational drug is a legal or illegal drug that's taken without any medical guidance. Viagra and its alternatives are prescription medications, which mean they should only be taken when prescribed by a doctor or other medical professional who can legally write prescriptions in the way directed by them.
When Viagra or other similar ED medication is bought without a prescription it becomes a recreational drug.
Why do people take Viagra recreationally?
There are a lot of exaggerated claims and myths around Viagra. Some men who don't have ED say that it improves their sexual prowess, that it makes their erections harder, bigger, longer-lasting and that it helps them to get hard again faster after orgasm.
You've probably heard about the friend of a friend who went for hours after taking Viagra or about the guy who could go again and again all night long. The drug is also taken recreationally by both men and women, in the belief that it's an aphrodisiac; something that turns you on and boosts your sex drive.
Some men take Viagra to counter the effects of other drugs. Alcohol and illegal drugs like ecstasy/MDMA, cocaine and ketamine can cause temporary ED. Some legal drugs like antidepressants can also cause ED or reduce the desire for sex. Often Viagra is taken recreationally alongside these other drugs in a bid to help out.
And some guys take Viagra for peace of mind. Maybe they're with a new partner and they're nervous and they want to make sure they'll be able to perform on cue.
But is any of this true?
The truth about Viagra
The truth about Viagra is that it's an effective treatment for ED and a few other specific medical conditions like pulmonary arterial hypertension. It won't turn you into a sex god. If you don't have ED it won't make your erections bigger or firmer and it won't make your penis bigger.
There is some evidence that it can help with premature ejaculation and that it can help you get harder again faster after coming, but this effect wasn't found in a later study, so the claims that Viagra can boost sexual prowess are probably more urban legend than reality.
Viagra and other similar ED drugs can make your erections last a long time, but that's a rare side effect of Viagra and despite what you might think it's not a good one. It's called priapism. It can last for many hours, is usually painful and it can cause lasting damage to your penis that can actually result in ED.
Viagra isn't an aphrodisiac either. It doesn't increase your sex drive. The desire has to be there already, Viagra just helps turn that desire into an erection for men who have ED.
There is evidence that Viagra can help with ED caused by other drugs like antidepressants, but drugs can interact with each other when taken together, so they should be done so under the guidance of a medical professional. Obviously we don't endorse taking illegal drugs, but if you do intend to and you plan to take Viagra with them talk to our doctors first. What you say to them is confidential, you won't get in trouble and they can give you the benefit of their wisdom.
And if it's peace of mind you want, then Viagra can help, but it should be your last resort. If you're worried about sex then you should speak to your doctor. There's a recognized psychological condition called performance anxiety and your doctor can advise you on who you can speak to about it. Viagra can help manage the erectile dysfunction symptoms that come with performance anxiety, but it should only to be tried after other options have been exhausted.
The dangers of taking Viagra without a prescription
Viagra, and its alternatives, are established treatments for ED, but like all medications they have side effects. The most common side effects of Viagra and other ED drugs are relatively mild and short-lasting, like headaches, feeling sick or dizziness, but there can be more dangerous side effects.
We've already mentioned priapism and they can also cause heart problems, seizures and strokes. These side effects are rare, but they're a risk. These medications can also interact with other drugs you might be taking making severe side effects more likely.
When you talk to a healthcare professional about trying an ED treatment like Viagra, you get the benefit of their years of training and experience. They can assess your situation, your health, what other medication you're taking and they can decide whether the treatment is right for you, as well as recommend the correct dosage and advise you on how to take it properly.
When you take Viagra recreationally you do it without that guidance and you put yourself at risk.
The takeaway
Viagra and alternatives like Cialis and Levitra are proven treatments for erectile dysfunction. However they are medications that can have side effects and there's a risk of taking them, particularly without the guidance of a healthcare professional.
Many of the reasons people take Viagra recreationally aren't even real. Don't put yourself at risk over a myth. If you're thinking about taking Viagra, talk to us first.
About Now Patient
Now Patient's online services are available in the US and UK. We help you manage your prescriptions, doctor appointments, test results, health risks, and a lot more, all in one place for FREE. If you are in the United States, you could enjoy savings using Now Patient's mail-order pharmacy or use the Now Patient Rx Advantage Card at over 65,000 pharmacies, with savings of up to 90% on popular FDA-approved brand and generic medications like Ozempic, Mounjaro, clopidogrel and lots more. We do not currently handle commercial insurance, Medicare or Medicaid. UK NHS and private prescriptions are delivered FREE of charge across England & Wales by our UK NHS online pharmacy.
Sources
Disclaimer
Now Patient has taken all reasonable steps to ensure that all material is factually accurate, complete, and current. However, the knowledge and experience of a qualified healthcare professional should always be sought after instead of using the information in this page. Before taking any drug, you should always speak to your doctor or another qualified healthcare provider.
The information provided here about medications is subject to change and is not meant to include all uses, precautions, warnings, directions, drug interactions, allergic reactions, or negative effects. The absence of warnings or other information for a particular medication does not imply that the medication or medication combination is appropriate for all patients or for all possible purposes.
WHY WE BUILT NOW PATIENT
To improve the lives of everyone by making high-quality care accessible and convenient
We are here to improve lives. Our service gives you access to smart features & resources that can help empower you to take control of your health and improve your health outcomes. All this, in one place, for FREE. We strive to bring a fresh perspective to managing health. Not play by the rules. Now Patient can be accessed by downloading the App or using your web browser.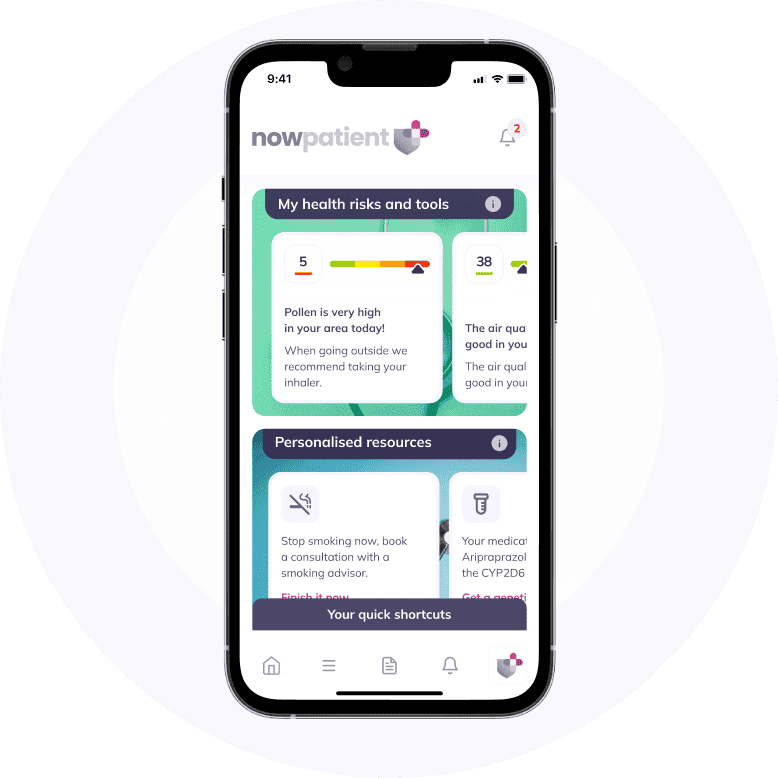 Your Questions Answered
For your peace of mind, we can answer your health questions quickly
If you want to learn more about the range of services that we provide which can help manage and improve your health, then just click the button below.
Find your answers