/
Blog
/
How much does Viagra cost in the US without insurance
How much does Viagra cost in the US without insurance
6 Sep 2023

Rajive Patel
Medical Writer / B.Pharm
Sildenafil citrate, commonly known by its brand name Viagra is manufactured by the pharmaceutical company Pfizer. It is used to treat erectile dysfunction (ED) and pulmonary arterial hypertension. If you don't have insurance coverage, sildenafil prices can be a concern. In this comprehensive guide, we will explore the cost of sildenafil citrate without insurance, alternative options, and strategies to obtain it at a lower price.
Image source: Canva
Understanding sildenafil citrate
Sildenafil citrate is the generic version of the brand name drug Viagra containing the same active ingredient. It is a well-known erectile dysfunction medication often called the little blue pill. It belongs to a group of medicines called PDE5 inhibitors or phosphodiesterase 5. Viagra works by relaxing the walls of arteries, widening blood vessels, increasing blood flow, and enabling a stronger and longer-lasting erection. Apart from treating ED, sildenafil citrate is also FDA-approved for managing pulmonary arterial hypertension, a condition characterized by high blood pressure in the lungs' arteries.
The price of sildenafil citrate without insurance
For individuals without insurance coverage, the cost of Viagra can vary depending on the reason for its prescription. Those with pulmonary hypertension may require daily doses, while individuals seeking treatment for ED typically take sildenafil citrate right before sexual activity, resulting in prescriptions for only a few pills per month. On average, a 30-tablet prescription of sildenafil citrate can cost around $1,194 without insurance. However, the price may be lower if the prescription is for a smaller quantity or if alternative forms of sildenafil citrate, such as injections or oral solutions, are used.
Insurance coverage for sildenafil citrate
Insurance coverage for sildenafil citrate depends on the specific medical condition being treated. For individuals with pulmonary hypertension, sildenafil citrate is usually covered by health insurance, Medicare drug plans, and Medicaid. However, coverage for injections may require prior authorization. Copay costs for pulmonary hypertension treatment using sildenafil citrate are typically low, but coverage gaps and other factors can influence out-of-pocket costs.
When it comes to ED treatment, insurance coverage for generic sildenafil citrate may vary. Private or employer health insurance plans are more likely to cover generic ED medications, including sildenafil citrate. It is advisable to contact the insurance company to determine coverage for ED medications. While generic sildenafil citrate may be covered, it's important to note that brand-name versions may not receive the same coverage.
Lower-cost alternatives and strategies
If the cost of sildenafil citrate without insurance is challenging, there are several alternatives and strategies to consider:
1. SingleCare prescription discount card
Utilizing a SingleCare prescription discount card can significantly reduce Viagra prices. With discounted prices as low as $5 for a 30-day supply, a SingleCare discount card can provide substantial savings off the average retail price. It is important to note that SingleCare prices may vary depending on the pharmacy, so it's advisable to compare prices at participating pharmacies.
2. Comparison shopping
Different pharmacies may charge varying prices for generic prescriptions, including sildenafil citrate. By comparing prices at various local pharmacies, individuals can find the lowest price in their area. SingleCare's website offers a convenient platform to compare retail prices between major pharmacies, providing an opportunity to save on sildenafil citrate costs.
3. Explore alternative treatment options
Consulting with a healthcare provider about alternative treatment options for ED can be beneficial. Other meds, such as Cialis (tadalafil) and Levitra (vardenafil), work similarly to sildenafil citrate and may offer comparable results at a similar cost. Additionally, discussing other ED drugs with the prescribing healthcare professional can provide insights into more effective alternatives with better tolerability and side effects.
4. Consider health insurance coverage
For individuals dealing with pulmonary hypertension, purchasing a health insurance policy may be worth considering. The expenses associated with managing this chronic and serious condition go beyond medication costs and may include office visits, tests, and procedures. Exploring affordable health insurance policies through the state's marketplace and ensuring they cover sildenafil citrate is a prudent approach. However, when it comes to ED treatment, health insurance coverage may vary. It is important to note that having health insurance coverage may be advantageous, especially when dealing with other chronic health problems.
Conclusion
Sildenafil citrate, the generic version of Viagra, is an effective medication for treating both erectile dysfunction and pulmonary arterial hypertension. Understanding the cost of sildenafil citrate without insurance and exploring alternative options can help individuals manage the expenses associated with these conditions. By utilizing strategies such as prescription discount cards, comparison shopping, and exploring alternative treatments, individuals can find affordable ways to obtain sildenafil citrate. It is important to consult with healthcare professionals for medical advice and insurance providers to determine the most suitable and cost-effective options for each individual's unique needs.
About Now Patient
Now Patient's online services are available in the US and UK. We help you manage your prescriptions, doctor appointments, test results, health risks and a lot more, all in one place for FREE. US prescriptions are available on a discounted 'cash' basis and delivered across all 50 states by our network of pharmacy providers dispensing FDA-approved generic and branded medications. We do not currently handle commercial insurance, Medicare or Medicaid. UK NHS and private prescriptions are delivered FREE of charge across England & Wales by our UK regulated online pharmacy.
Sources
Disclaimer
Now Patient has taken all reasonable steps to ensure that all material is factually accurate, complete, and current. However, the knowledge and experience of a qualified healthcare professional should always be sought after instead of using the information in this page. Before taking any drug, you should always speak to your doctor or another qualified healthcare provider.
The information provided here about medications is subject to change and is not meant to include all uses, precautions, warnings, directions, drug interactions, allergic reactions, or negative effects. The absence of warnings or other information for a particular medication does not imply that the medication or medication combination is appropriate for all patients or for all possible purposes.
WHY WE BUILT NOW PATIENT
To improve the lives of everyone by making high-quality care accessible and convenient
As technologists and clinicians, we built Now Patient to be more than just an online pharmacy. We are here to improve lives. Our service gives you access to smart features & resources that can help empower you to take control of your health and improve your health outcomes. All this, in one place, for FREE. We strive to bring a fresh perspective to managing health. Not play by the rules. Now Patient can be accessed by downloading the App or using your web browser.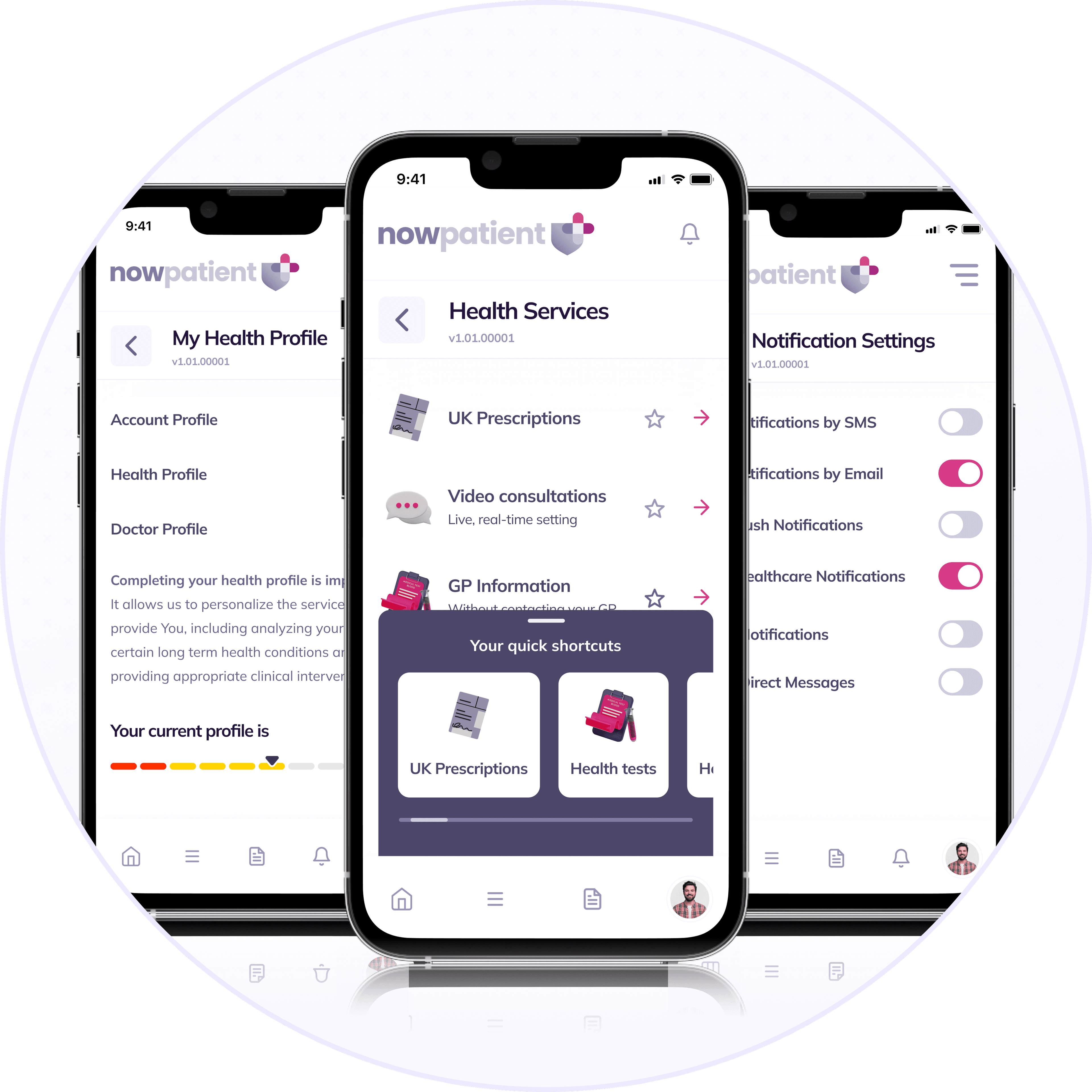 NOW PATIENT
Join the thousands of happy customers in the US and UK already using Now Patient
Manage your health and prescriptions all in one place for FREE. Available to use by downloading the App, or using your web browser.
Your Questions Answered
For your peace of mind, we can answer your health questions quickly
If you want to learn more about the range of services that we provide which can help manage and improve your health, then just click the button below.
Find your answers