Stefano Mirabello
Pharmacist / B.Pharm
Are you frustrated ordering your medication on a dedicated medicines order line that is constantly busy? Now Patient is like having a medicines order line in your pocket. It allows you to take control of your medicines, saves you time, delivers straight to your door and is free of charge.
Now Patient connects directly with your GP through the NHS. This means your medication records are 'accessed' from the NHS and will be viewable on the App. From within the App, you will be able to place orders for the medications you require. This request is sent directly to your GP practice, without the need to ring a prescription medicines order line (MOL), eliminating the need for phone calls or callbacks during busy times.
When approved, the prescription is electronically sent to Now Patient and can be safely dispensed and delivered by us. Now Patient is like having a medicines order line in your pocket so you will always know the status of your order. Read on to find out exactly how the ordering process works in more depth.
1. Download the App and Register (2-3 mins)
The easiest way to do this is to download the NowPatient App to your phone or mobile device. Downloading the App not only allows you to order your repeat medication online but also access services like consultations in a real-time setting and other health services.
You may call us on +44 20 388 51 500 if you do not have a smartphone.
The registration process is a simple 3 step process:
Step 1 Prescription preference
This step confirms by you registering that you choose Now Pharmacy (our pharmacy) to dispense and deliver your repeat prescriptions and it is your nominated pharmacy. This step confirms that Now Patient (Info health pharmacy) can access your summary care records.
Step 2 Exemption or no exemption
The second step is to check if you are entitled to free NHS prescriptions, 90% of NHS prescriptions are dispensed free of charge. You simply select the category that is relevant to you and move on to Step 3.
Step 3 Personal information
This final step of registering involves gathering personal information about you so we have accurate information stored e.g. name, date of birth, contact telephone number, registered GP practise or health centre.
You will receive an email verification code to input into the app and registration is complete.
2. We upload your repeat prescriptions to the app
Once you have registered Now Patient will upload a list of your repeat prescriptions to the app. We get this information from your NHS summary care record (which is why we ask for your approval to do this during the registration process).
This process usually takes less than 48 hours but in periods of peak demand, it may take a little longer. We will send you an email and in-app push notification when it is complete, prescription requests can now be put through.
3. You order your medications (2-3mins)
Once you have received an email or notification you are now ready to order your medications. Just log in, tap the medicines that have been prescribed by your GP and let us know where you want them delivered.
If you don't have a smartphone you are still able to order, but it will take a little longer. You will have to go to your GP or make a simple telephone call, asking them to send the repeat prescription request to us. We will then dispense and deliver your medications.
4. Your GP signs off the prescriptions (up to 3 working days)
Now Patient works using the NHS's Electronic Prescription Service (EPS), which allows GPs to send their prescriptions electronically to your chosen pharmacy.
Every electronic prescription that a pharmacy dispenses must be approved by your GP. But don't worry, you don't have to do anything. We liaise directly with your GP to get the prescription signed off so we can finalise your order.
5. We pick and send the items
Now Pharmacy has a state-of-the-art national dispensing facility where our robots quickly pick out the medications you need and hand them to our friendly (human!) pharmacists for a thorough check before we send them out to you.
6. The medicines are delivered to your door
Now Patient will send the medicines you ordered to an address of your choice. Free delivery is all part of the service, so it won't cost you anything. If you have 3 or more items sent to you and the package is too large to fit through the letterbox, we will deliver them to you using a courier service and send a text so you know when to expect them. All this is always free of charge.
7. You access the full range of Now Patient's services
Once you have completed your first order of medication with Now Patient you can then access every part of our app. You'll then need to order again next month (for patient safety, every order must be requested by you and approved by your GP before we can send it out), but don't worry about not remembering. Our app lets you set automatic reminders e.g. when you have 7 days of medication left, so you'll never forget to order your medication again.
The Now Patient app allows you to order repeat prescriptions 24 hours a day, 7 days a week, including bank holidays. You also have access to online services such as online consultations and other health services once you are registered with the app.
About Now Patient
Now Patient's online services are available in the US and UK. We help you manage your prescriptions, doctor appointments, test results, health risks and a lot more, all in one place for FREE. US prescriptions are available on a discounted 'cash' basis and delivered across all 50 states by our network of pharmacy providers dispensing FDA-approved generic and branded medications. We do not currently handle commercial insurance, Medicare or Medicaid. UK NHS and private prescriptions are delivered FREE of charge across England & Wales by our UK regulated online pharmacy.
Disclaimer
Now Patient has taken all reasonable steps to ensure that all material is factually accurate, complete, and current. However, the knowledge and experience of a qualified healthcare professional should always be sought after instead of using the information in this page. Before taking any drug, you should always speak to your doctor or another qualified healthcare provider.
The information provided here about medications is subject to change and is not meant to include all uses, precautions, warnings, directions, drug interactions, allergic reactions, or negative effects. The absence of warnings or other information for a particular medication does not imply that the medication or medication combination is appropriate for all patients or for all possible purposes.
WHY WE BUILT NOW PATIENT
To improve the lives of everyone by making high-quality care accessible and convenient
As technologists and clinicians, we built Now Patient to be more than just an online pharmacy. We are here to improve lives. Our service gives you access to smart features & resources that can help empower you to take control of your health and improve your health outcomes. All this, in one place, for FREE. We strive to bring a fresh perspective to managing health. Not play by the rules. Now Patient can be accessed by downloading the App or using your web browser.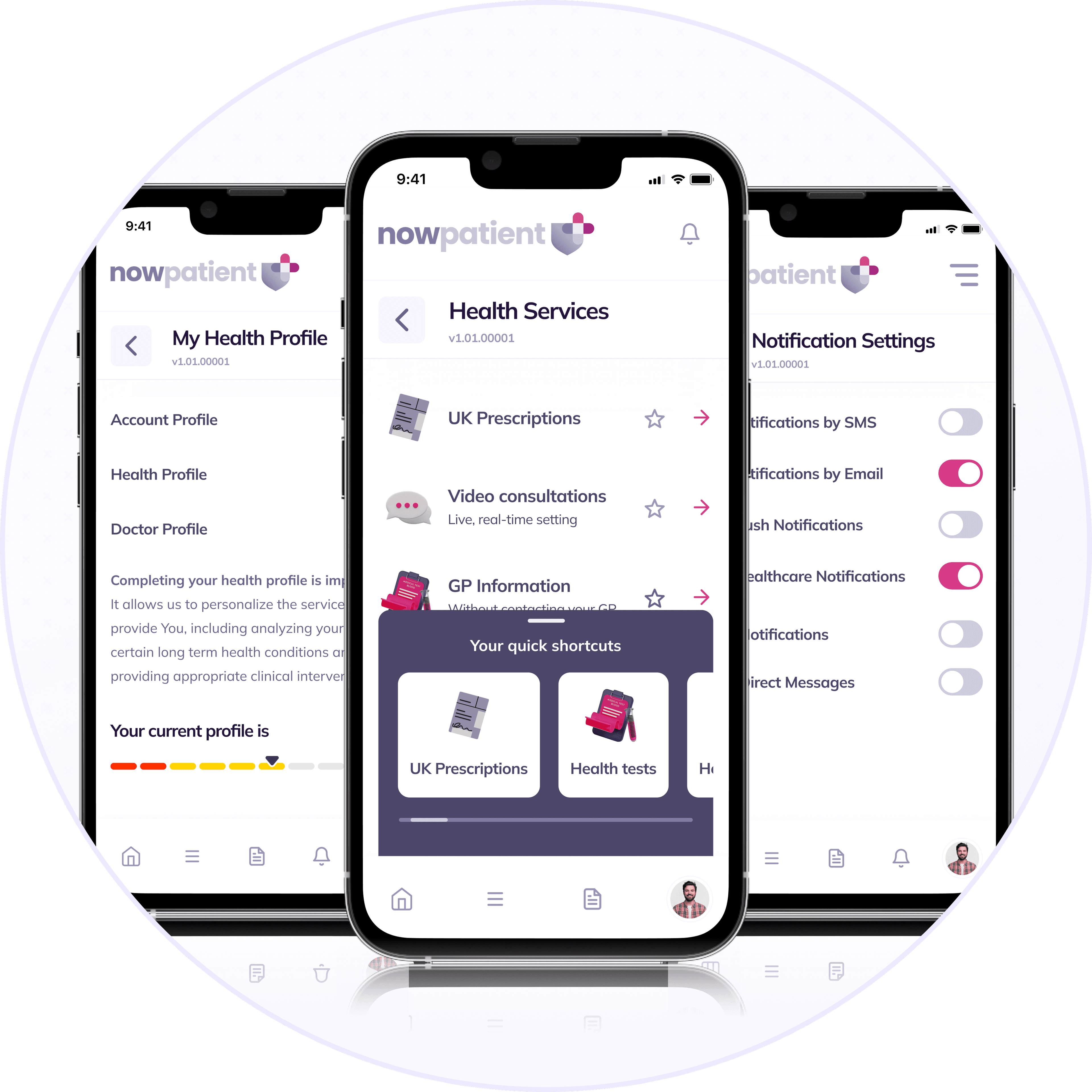 NOW PATIENT
Join the thousands of happy customers in the US and UK already using Now Patient
Manage your health and prescriptions all in one place for FREE. Available to use by downloading the App, or using your web browser.
Your Questions Answered
For your peace of mind, we can answer your health questions quickly
If you want to learn more about the range of services that we provide which can help manage and improve your health, then just click the button below.
Find your answers