Stefano Mirabello is a registered Pharmacist.
Stefano initially obtained his professional qualification as a Pharmacist in Italy, in January 2010, after which he worked in a community pharmacy setting and in a microbiology laboratory within a hospital. During his time at university, he conducted research on amino acid reactivity.
Stefano registered with the GPhC (General Pharmaceutical Council) as a U.K. Pharmacist in January 2015, taking up varius positions in community pharmacies. It was in the community pharmacy sector that Stefano grasped a deep understanding of the role pharmacists played in the NHS in promoting health and wellbeing to local communities. He has a particular interest in how Pharmacy has a role in improving health outcomes for non communicable diseases (NCD's).
Being multilingual (Italian, Spanish and English), Stefano is able to provide services to patients who may have difficulty communicating in English.
Stefano's interests include medical writing, review, and preventative medicine through healthy living advice.
Education
Degree in Pharmacy (Italy)
Certifications
GPhC registered Pharmacist
Professional Accomplishments
Flu Vaccinations Accreditation
New Medicines Service
Medication Review Training
Affiliations
ABOUT OUR MEDICAL REVIEW PROCESS
At Now Patient, we are committed to providing users with clear, evidence-based health and
wellness information. We aim to be your most trusted source of information and to that end,
our content is medically reviewed. Medical review is provided using an approved panel who
have years of clinical practice and/or academic exposure.
WHY WE BUILT NOW PATIENT
To improve the lives of everyone by making high-quality care accessible and convenient
As technologists and clinicians, we built Now Patient to be more than just an online pharmacy. We are here to improve lives. Our service gives you access to smart features & resources that can help empower you to take control of your health and improve your health outcomes. All this, in one place, for FREE. We strive to bring a fresh perspective to managing health. Not play by the rules. Now Patient can be accessed by downloading the App or using your web browser.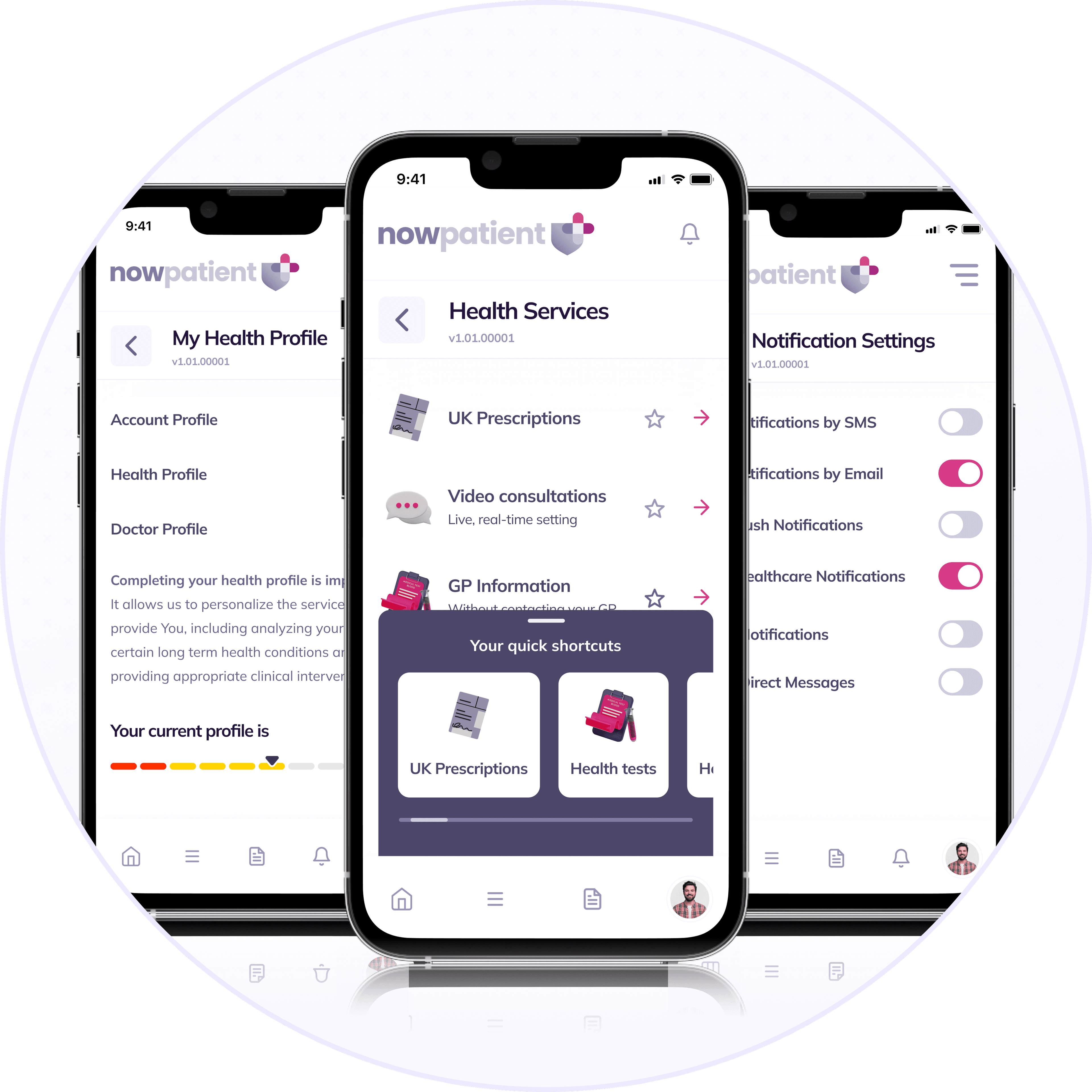 NOW PATIENT
Join the thousands of happy customers in the US and UK already using Now Patient
Manage your health and prescriptions all in one place for FREE. Available to use by downloading the App, or using your web browser.
Your Questions Answered
For your peace of mind, we can answer your health questions quickly
If you want to learn more about the range of services that we provide which can help manage and improve your health, then just click the button below.
Find your answers