Ketan Patel
Pharmacist / M.Pharm
Ketan Patel is a registered Pharmacist in the UK with the GPhC.
Ketan obtained his professional qualification as a Pharmacist in 2014 after graduating from UCL with an mPharm degree.
Ketan has worked in a community pharmacy since registering as a pharmacist. During this time, Ketan acquired an understanding of the role pharmacists play in the community and works with other services within the NHS to provide a holistic approach to patient-centred care.
During the COVID-19 pandemic, Ketan was instrumental in starting, developing, and maintaining a vaccination clinic (St. Aidan's Church Hall). He remains the co-lead of this centre and has a vast knowledge around vaccinations. He is also an advisor for other clinics around the country and helped them start and maintain vaccination programmes as well.
Ketan is fluent in English and Gujarati and has helped in Social Media campaigns for the NHS to spread positive health related messages.
Ketan has a keen interest in medicine formulations, as well as using technology to improve healthcare services and facilities
Education
Licensed certifications
Professional accomplishments
Flu vaccinations accreditation
COVID-19 Vaccinations Accreditation
Safeguarding
New medicines service
Affiliations
ABOUT OUR MEDICAL REVIEW PROCESS
At Now Patient, we are committed to providing users with clear, evidence-based health and wellness information. We aim to be your most trusted source of information and to that end, our content is medically reviewed. Medical review is provided using an approved panel who have years of clinical practice and/or academic exposure.
WHY WE BUILT NOW PATIENT
To improve the lives of everyone by making high-quality care accessible and convenient
As technologists and clinicians, we built Now Patient to be more than just an online pharmacy. We are here to improve lives. Our service gives you access to smart features & resources that can help empower you to take control of your health and improve your health outcomes. All this, in one place, for FREE. We strive to bring a fresh perspective to managing health. Not play by the rules. Now Patient can be accessed by downloading the App or using your web browser.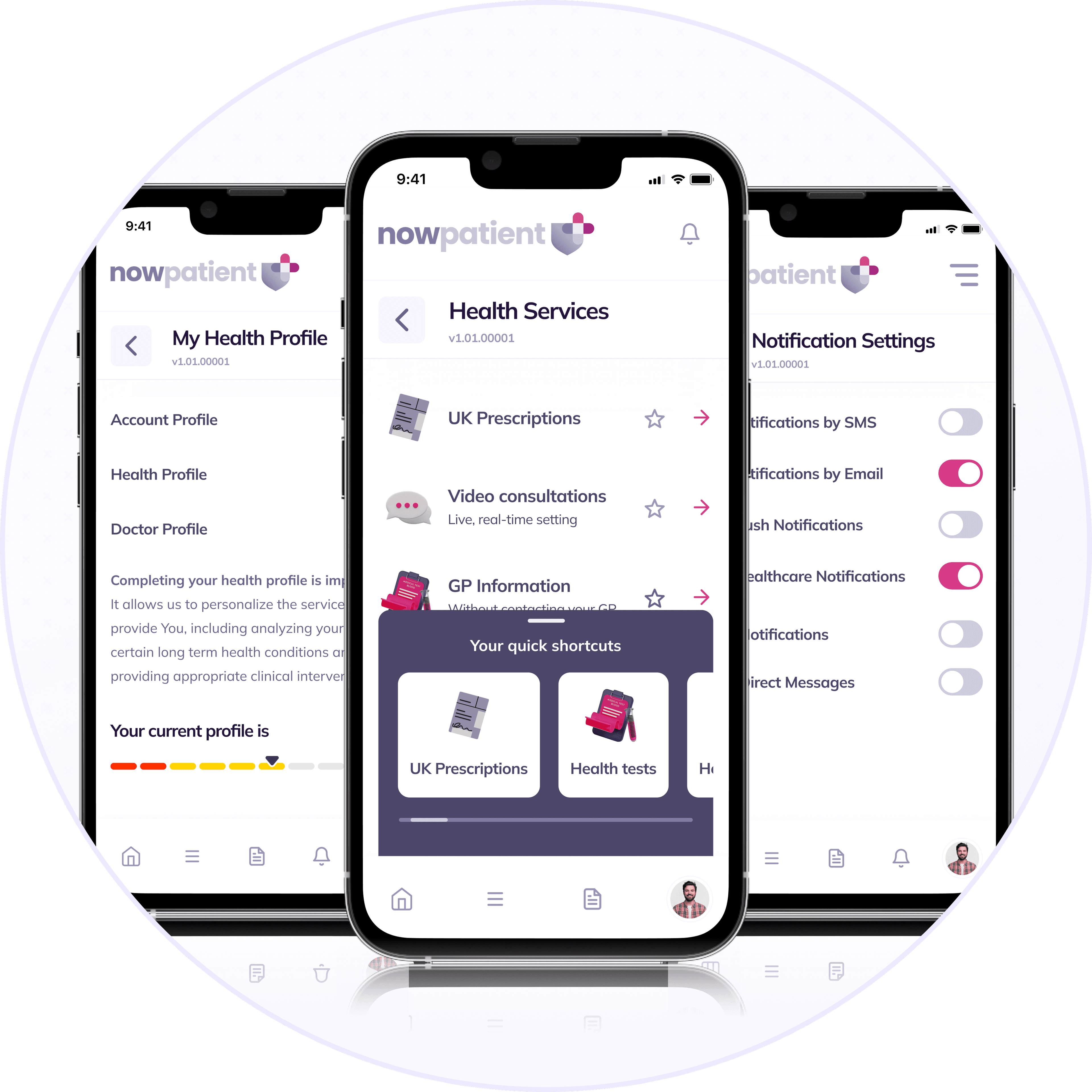 NOW PATIENT
Join the thousands of happy customers in the US and UK already using Now Patient
Manage your health and prescriptions all in one place for FREE. Available to use by downloading the App, or using your web browser.
Your Questions Answered
For your peace of mind, we can answer your health questions quickly
If you want to learn more about the range of services that we provide which can help manage and improve your health, then just click the button below.
Find your answers