The following is the US Privacy Policy ("US Privacy Policy") of Infohealth Ltd, a UK company ("Now Patient," "our," "us," or "we"). This US Privacy Policy sets out how we look after your personal information when you visit www.nowpatient.com (our "Website"), use our services, or otherwise share your personal information with us.
Please read this US Privacy Policy carefully. If the US Privacy Policy is unacceptable to you in any part, please do not use the Website or provide personal information. We change the US Privacy Policy from time-to-time. It is your responsibility to consult the US Privacy Policy every time that you use the Website to ensure that you still agree with our use of your personal information.
We cannot provide a GUARANTEE OR WARRANTY as to the security or protection of personal information that we process but will provide protection that is equivalent to that which is required by law.
Our Website and services are directed to people who are at least 18 years old. We do not knowingly collect personal information from anyone under the age of 18, unless permitted or required by law. If you are aware that Now Patient has collected personal information from someone under the age of 18 for a reason not permitted by this US Privacy Policy or applicable law, please alert us at [email protected] and the information will be removed from our systems without undue delay.
Now Patient uses cookies on the Website. A cookie is a small text file that is stored on a user's computer for record-keeping purposes. We use both session ID cookies and persistent cookies. A session ID cookie expires when you close your browser. When you login to the Website the session ID cookie allows us to maintain a unique and secure (encrypted) connection with the user. A persistent cookie remains on your hard drive for an extended period of time. If you reject cookies, you may still use the Website, but your ability to use some areas of the Website, such as logging in, will be limited. For more information, please see our Cookie Notice.
Your Personal Information
Now Patient may have access to two categories of information that may overlap, namely Protective Health Information and Personal Information.
Protected Health Information

Health information, also known as "Protected Health Information" or "PHI", includes your identity for purposes of a prescription, your age, gender, physical characteristics, ethnicity, past medical history, current symptoms, other health issues that you might be having, medications, results of examinations, and any other health information defined by the Health Insurance Portability and Accountability Act ("HIPAA"), the Health Information Technology for Economic and Clinical Health ("HITECH"), and regulations put out by the Centers for Medicare and Medicaid Services (together, the "Privacy Rule").
We will process Protected Health Information that you provide to us, for example that you include in your responses to our (or a healthcare provider's) general or specific health questions, or in medical records generated by a healthcare provider.
This US Privacy Policy describes the measures Now Patient has in place to protect the privacy of your Protected Health Information.
Personal Information
We will also obtain other personal information about you, such as the credit card number you use to pay for services, the address to which medications may be delivered and other non-health related information that enable us to identify you. For instance, this would include your email address, Internet Protocol (IP) address, video or audio recordings, phone number, physical location or address and similar personal information linked to your access to our Website and to the provision of Now Patient services.
As a general matter, any information that you enter or provide on our Website is information that we keep on your behalf. Information that you do not directly enter but that we also keep would include information about your computer, your usage details, language, date and time of usage, etc., or your internet service provider so that we can identify you as you go from page-to-page or re-open the Website after being absent. The other information that we collect, that you might not be immediately aware of, would be any information that you provide by means of communication with the physician or pharmacy that are not conducted through the Website.
Personal information other than PHI described in Section 7 is protected information as well but under different systems. Some of this information is protected under the Fair Credit Billing Act, the Fair Credit Reporting Act, the Truth in Lending Act, Fair Debt Collection Practices Act, and the Credit CARD Act and by consumer laws enforced by the Federal Trade Commission or other state and federal privacy laws that may be applicable to use of your social security number, driver's license, or other identifying information. In general, these laws require that we disclose that we have this information, provide a system for protection from unauthorized use or disclosure, and for your notification if we identify a breach in that system.
If you are a resident of California, the California Consumer Privacy Act of 2018 has introduced new requirements for protection of all private information. These new requirements available to California residents includes:
That we disclose the specific information that we will collect (as we have above);
That we disclose the sources from which collected (you, the physician and the pharmacy);
That we disclose how we use the information and with whom we share it (you, the physician, and the pharmacy); and
That we provide that you may access or request deletion of certain information and to opt out of sale of your information.
Now Patient does not sell your personal information. If you request deletion of certain information, Now Patient, the physician or the pharmacy may decline to provide services if the deleted information is important to the decision to provide a prescription as each of these two entities must maintain certain information about you.
By providing your consent as a condition of use of Now Patient services, you acknowledge and consent to the use and storage of the personal information (and Protected Health Information) which you provide to Now Patient, the physician or the pharmacy, as described in this US Privacy Policy.
On behalf of the Provider, and to provide the Services (as defined in the US Telehealth Consent to the you (the "Customer"), Now Patient will maintain and/or store your personal information and Protected Health Information in an electronic database which may include cloud services ("Records"). In general, Now Patient will not maintain any hard or paper copies of your information although the physician or pharmacist may do so independently from Now Patient. Now Patient will not have or use that information unless the pharmacist or physician enters that information into our database.
Now Patient will retain your Records for as long as necessary to comply with legal obligations, resolve disputes, enforce agreements and/or to continue to provide you with services.
You may review your information (Section 8) and request that Now Patient change, delete or otherwise alter your Records. When you request your Records, we will also provide you with information as to how you can change or delete certain information.
The electronic systems used to provide the Now Patient services incorporate commercially reasonable state-of-the-art network and software security protocols to protect the privacy and security of your personal information and Protected Health Information and will include measures to safeguard data against unauthorized use or intentional or unintentional corruption. Your personal information and Protected Health Information will not be disclosed to any third party without your consent, except as authorized by law, for the purposes of physician and pharmacy consultation, prescriptions, payment/billing, and certain administrative purposes, or as otherwise set forth in the US Terms of Use.
Use of your Personal Information and Protected Health Information
We will process your personal information and Protected Health Information for the following purposes as is necessary for the performance of a contract between you and us (i.e. our US Terms of Use), or to answer questions or take steps at your request prior to entering into a contract:
To verify your identity, location, or other personal information;
To create and administer your account;
To fulfil our obligations under the US Terms of Use and to provide our services;
To place and track orders; and
To communicate with you (including to notify you about changes to our services, and to send you service emails relating to the activities you have asked us to undertake on your behalf).
We will process your personal information and Protected Health Information for the following purposes as necessary for certain legitimate interests, and where you have given your express, informed consent to such processing as required by applicable law (such consent can be withdrawn at any time):
To allow you to participate in interactive features of our services, when you choose to do so;
To provide customer support;
To communicate with you;
To resolve any disputes;
To ensure the security of your account and our business, preventing or detecting fraud or abuses of our Website;
As part of our efforts to keep our Website safe and secure;
To administer our Website and for internal business administration and operations, including troubleshooting, data analysis, testing, research, statistical and survey purposes;
To develop and improve our Website and/or services;
To comply with applicable law;
To send you personalized marketing communications, in order to keep you informed of our and our selected partners' products and services, which we consider may be of interest to you;
To provide you, or allow selected third parties to provide you, with information about products or services, that may interest you;
To protect Now Patient rights, such as termination of services, and protect Now Patient's properties; or
When required by applicable law, court order or other governmental authority (including, without limitation and by way of example only, in response to a subpoena or other legal process).
We do not de-identify, anonymize or pseudo-anonymize your information to provide the services. Now Patient will not sell the Records to third parties.
The information we collect automatically is statistical data and may include personal information, or we may maintain it or associate it with personal information you provide to us or that we collect in other ways or receive from third parties. It helps us to improve our Websites or other interactions with you.
All credit card or debit card transactions occur through our online payment systems.
HIPAA or "Privacy Rule" Compliance
Now Patient has signed agreements with both the physician and the pharmacy that ensure that the Protected Health Information that is conveyed or received by Now Patient from or to either the pharmacy or physician will be treated in a manner equivalent to information that is protected under the Privacy Rule as defined by Title 45 of the Code of Federal Regulations §§ 164.502(e), 164.532(d), (a).
Because we may bill federal or private insurance companies to cover the costs of Now Patient services, the information that you provide is Protected Health Information covered under the Privacy Rule. For instance, Now Patient has controls in place that are substantially similar to those applicable to "business associates" of physicians or pharmacies – the controls that are in place, for instance, by health insurance companies, billing companies, or other companies that store protected health information for physicians or pharmacies.
These safeguards include appropriate administrative, technical, and physical safeguards that protect against uses and disclosures. As with all modern information systems, these safeguards do not provide a GUARANTEE OR WARRANTY of protection of the privacy of protected health information from any and all potential risks. Now Patient's reasonable safeguards will vary from Provider to Provider or the pharmacy depending on factors, such as the size of the pharmacy, the pharmacy or physician's policies and the nature of its business. In implementing reasonable safeguards, Now Patient will analyze the needs and circumstances, such as the nature of health information Now Patient holds, and assess the potential risks to patients' privacy. Now Patient will also take into account the potential effects on patient care and may consider other issues, such as the financial and administrative burden of implementing particular safeguards and the commercially reasonably standards for protection of such privacy as they may evolve. If Now Patient detects a breach, loss or unauthorized use, Now Patient will notify you.
The physician or pharmacy may also have a US Privacy Policy which you should consult.
Now Patient will provide copies of the records by electronic transmission of the Records to the Customer on request. To implement this request, the Customer must have sufficient electronic access to receive such Records. Records will not be provided in hard copy. Now Patient reserves the right to charge a reasonable fee for the collection and the transmission of the Records to the Customer.
In certain circumstances, you have the following rights under the data protection law in relation to your personal information (including PHI):
Request access to your personal information. You may have the right to request access to any personal information we hold about you as well as related information.
Request correction of your personal information. You may have the right to obtain without undue delay the rectification of any inaccurate personal information we hold about you.
Request erasure of your personal information. You may have the right to request that personal information held about you is deleted.
Request restriction of processing your personal information. You may have the right to prevent or restrict processing of your personal information.
Request transfer of your personal information. You may have the right to request transfer of personal information directly to a third party where this is technically feasible.
Where you believe that we have not complied with our obligations under this US Privacy Policy or applicable data protection law, you have the right to make a complaint to the Information Commissioner's Office ("ICO"), the UK supervisory authority for data protection issues.
Links to Third Party Websites
Our Website may contain links to other websites. Unless expressly stated, Now Patient does not intend those links to be referrals or endorsements of the linked entities. Now Patient is not responsible for the privacy policies or content of other websites. We encourage you to carefully read the US Privacy Policy of any website you visit.
"Do not Track" Disclosure
Certain web browsers may allow you to enable a "do not track" option that sends signals to the websites you visit indicating that you do not want your online activities tracked. This is different than blocking cookies as browsers with the "do not track" option selected may still accept cookies. We currently do not honor "do not track" signals. If we do so in the future, we will update this US Privacy Policy accordingly.
If you have questions about the US Privacy Policy or our privacy practices, please contacts us in the following ways:
Email address:

[email protected]

Mailing address: 1st floor offices, 28 Chipstead Valley Road, Coulsdon, Surrey. CR52RA
Telephone: +44 20 388 51 500
Revisions to our US Privacy Policy
We reserve the right to amend or otherwise change our US Privacy Policy at any time. If we make any changes, we will notify you by revising the date at the bottom of this US Privacy Policy and, in some cases, we may provide you with additional notice (such as adding a statement to our Website, or by sending you an email notification). You are responsible for periodically monitoring and reviewing any updates to this US Privacy Policy to stay informed about our information practices and the ways you can help protect your privacy. Your continued use of our Website and services after such amendments or changes to this US Privacy Policy will constitute your acknowledgement and acceptance of such changes.
WHY WE BUILT NOW PATIENT
To improve the lives of everyone by making high-quality care accessible and convenient
As technologists and clinicians, we built Now Patient to be more than just an online pharmacy. We are here to improve lives. Our service gives you access to smart features & resources that can help empower you to take control of your health and improve your health outcomes. All this, in one place, for FREE. We strive to bring a fresh perspective to managing health. Not play by the rules. Now Patient can be accessed by downloading the App or using your web browser.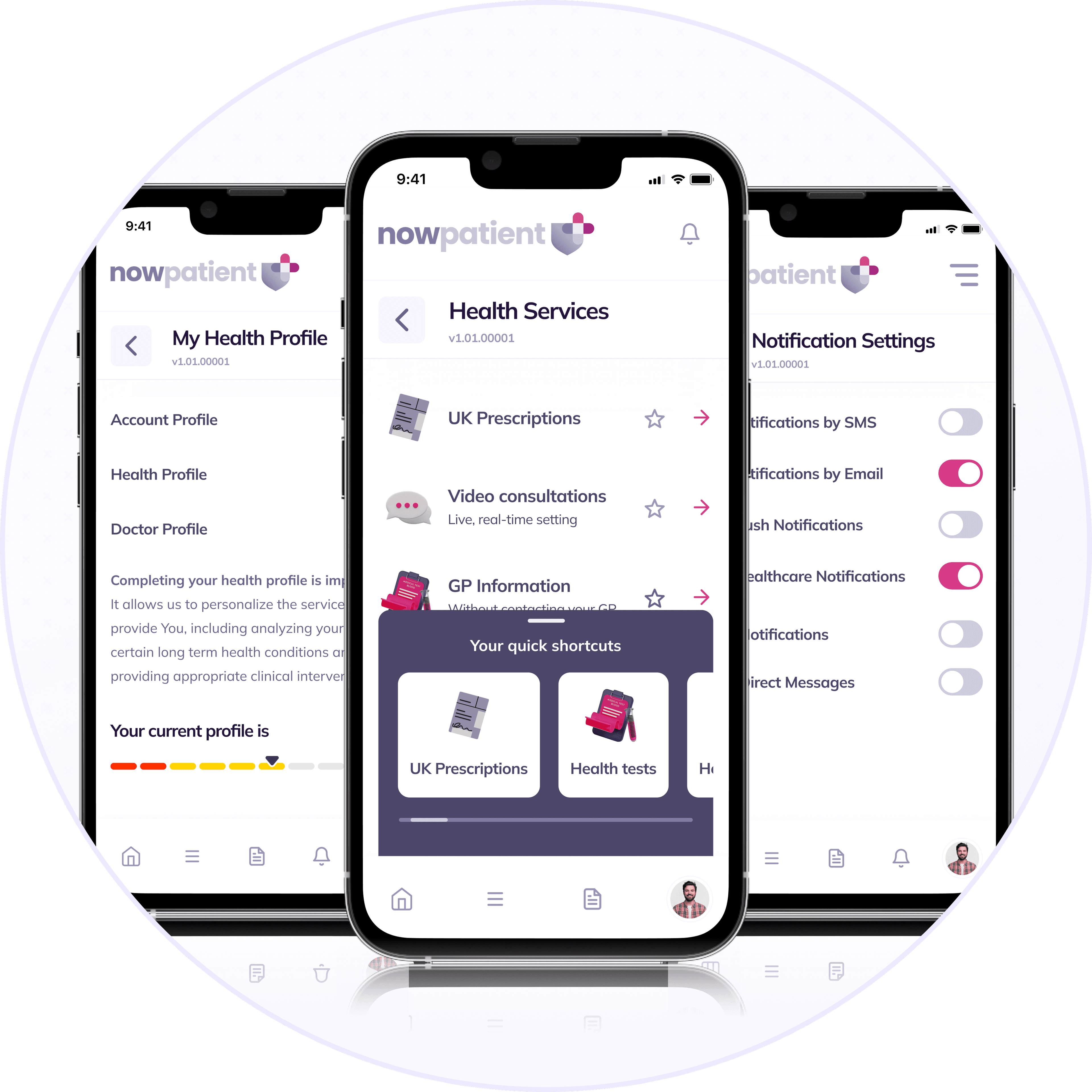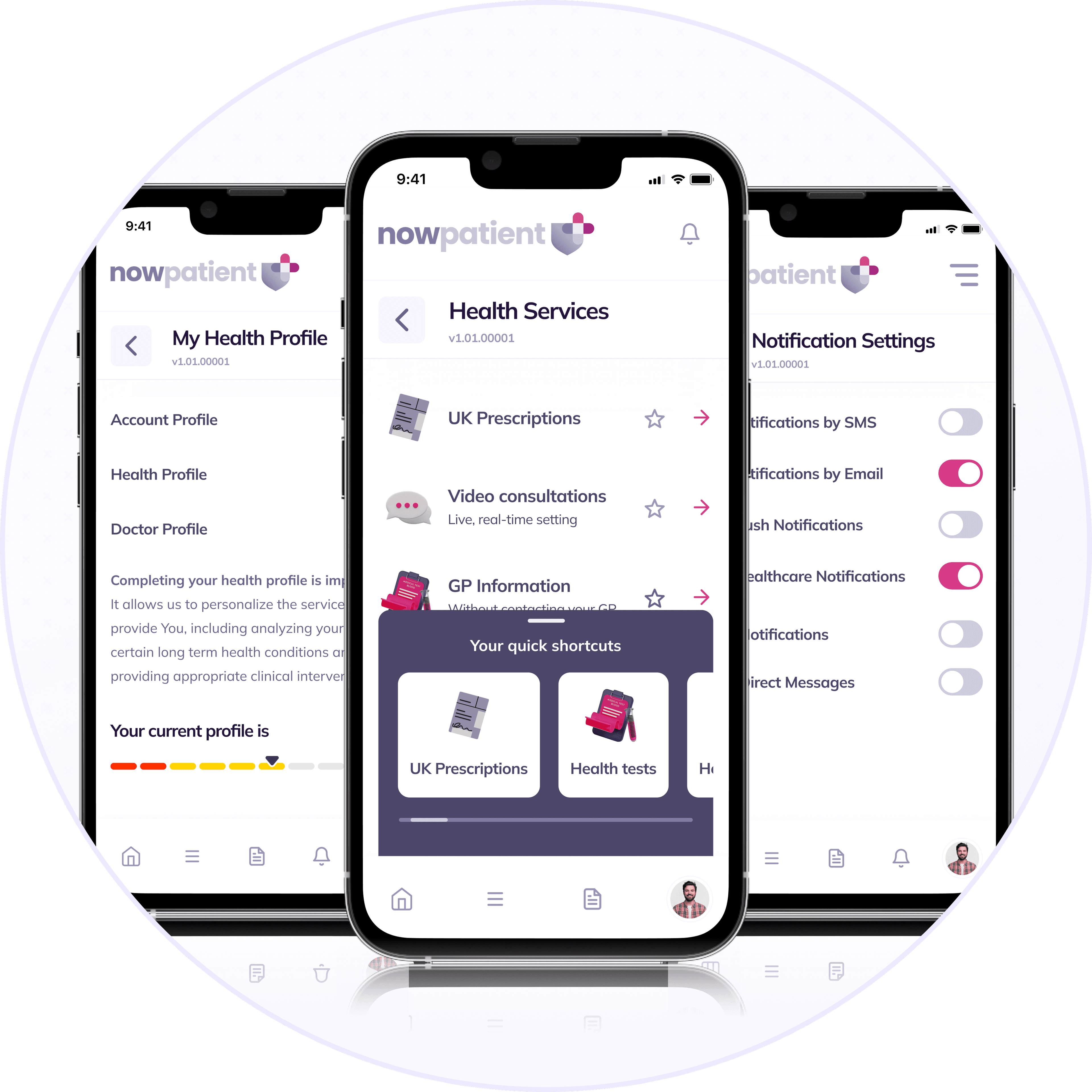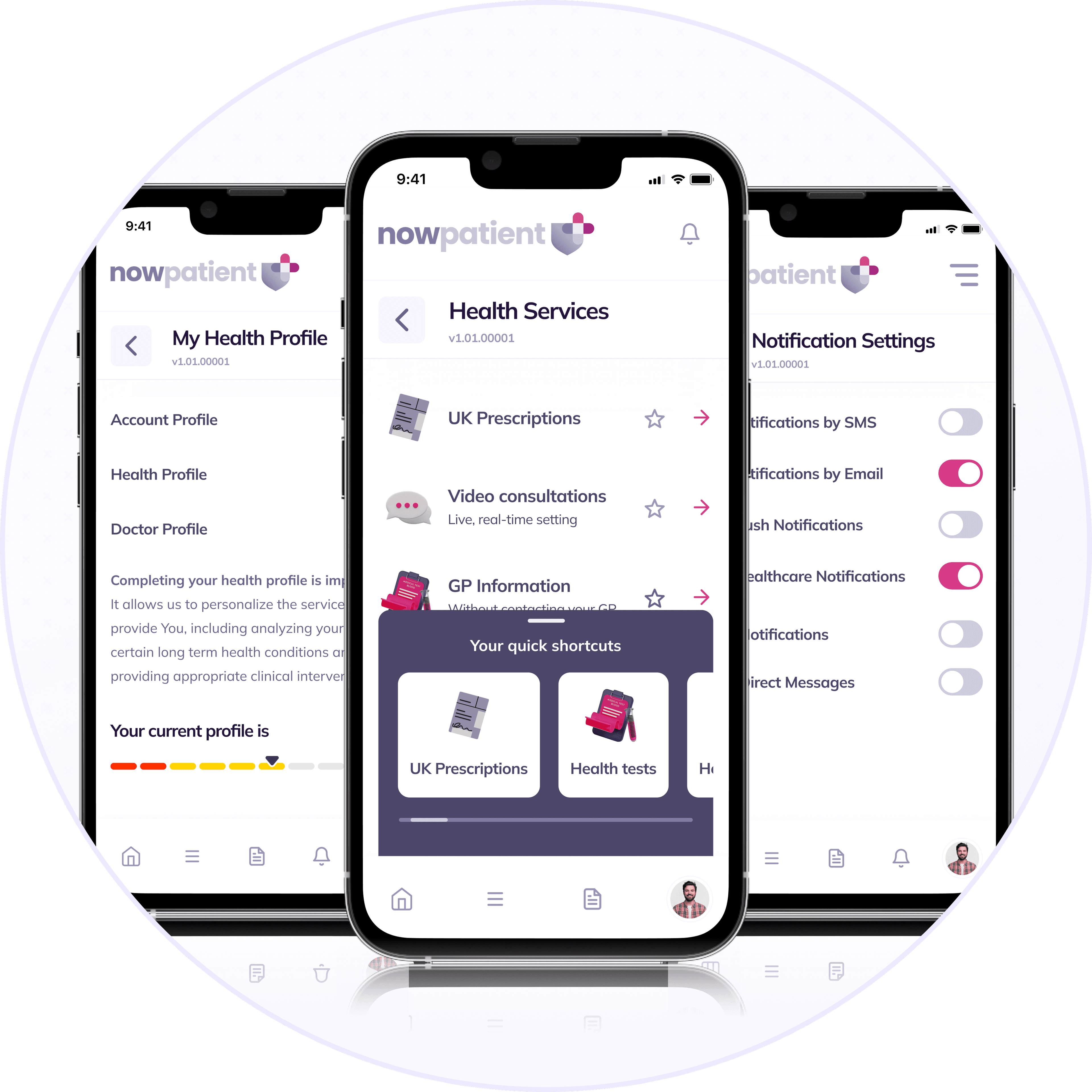 NOW PATIENT
Join the thousands of happy customers in the US and UK already using Now Patient
Manage your health and prescriptions all in one place for FREE. Available to use by downloading the App, or using your web browser.
Your Questions Answered
For your peace of mind, we can answer your health questions quickly
If you want to learn more about the range of services that we provide which can help manage and improve your health, then just click the button below.
Find your answers