On this page you will find the terms and conditions ("Terms") governing the purchase of genetic test kits offered for sale by Infohealth LTD d.b.a Now Patient. ("Company" or "we" or "us"), including, without limitation, at www.nowpatient.com. Note that if you are ordering several different products, multiple sets of terms and conditions may apply. We want to make your purchasing experience simple and transparent. For additional terms that relate to our products and services, website use, cookies, HIPAA, and privacy, see "Additional Policies" below. If you have any questions about your order or applicable terms, email our Customer Service at [email protected].
THESE TERMS CONTAIN A MANDATORY ARBITRATION PROVISION AND A CLASS ACTION WAIVER THAT REQUIRE THE USE OF ARBITRATION ON AN INDIVIDUAL BASIS TO RESOLVE DISPUTES.
IF YOU ARE AN INDIVIDUAL ACCESSING THIS WEBSITE ON BEHALF OF, OR FOR THE BENEFIT OF AN ORGANIZATION WITH WHICH YOU ARE ASSOCIATED, THEN YOU ARE AGREEING TO THESE TERMS ON BEHALF OF YOURSELF AND SUCH ORGANIZATION, AND YOU REPRESENT AND WARRANT THAT YOU HAVE THE LEGAL AUTHORITY TO BIND SUCH ORGANIZATION TO THESE TERMS. BY USING THE WEBSITE, YOU ALSO AFFIRM THAT YOU ARE OF LEGAL AGE AND HAVE CAPACITY TO ENTER INTO THIS AGREEMENT.
IF YOU ARE HAVING A MEDICAL EMERGENCY; EXPERIENCING SEVERE DIFFICULTY BREATHING; EXPERIENCING CONTINUOUS PAIN OR PRESSURE IN YOUR CHEST; FEELING CONFUSED; HAVING DIFFICULTY WAKING UP OR STAYING AWAKE; HAVE PALE, GRAY, OR BLUE-COLORED SKIN, LIPS, OR NAIL BEDS; OR ARE EXPERIENCING ANY OTHER EMERGENCY SIGNS OR SYMPTOMS, DO NOT WAIT FOR RESULTS AND SEEK IMMEDIATE MEDICAL CARE BY CALLING 911.
Governing Law; Arbitration; Class Action Waiver
Types of Kits Offered and Related Disclaimers
Direct Orders of Individual Kits
Replacement of Expired Kit Components
Testing Process and Sample Collection
Duration of Shipping and Results
Account Registration; User Names and Passwords
Third Party Materials; Links
No Agency or Other Relationship
Healthcare Providers Acting on Behalf of their Patients
WHY WE BUILT NOW PATIENT
To improve the lives of everyone by making high-quality care accessible and convenient
As technologists and clinicians, we built Now Patient to be more than just an online pharmacy. We are here to improve lives. Our service gives you access to smart features & resources that can help empower you to take control of your health and improve your health outcomes. All this, in one place, for FREE. We strive to bring a fresh perspective to managing health. Not play by the rules. Now Patient can be accessed by downloading the App or using your web browser.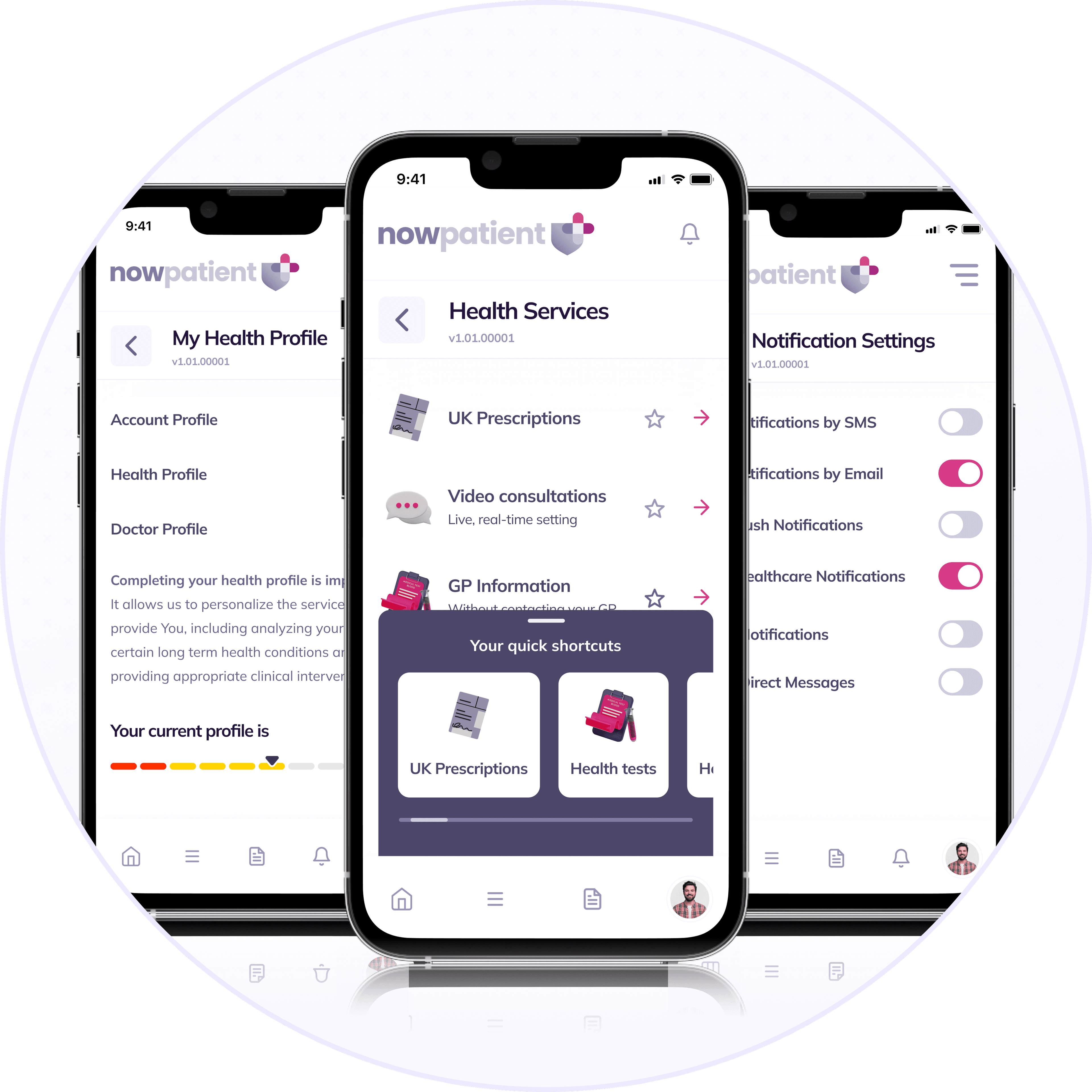 NOW PATIENT
Join the thousands of happy customers in the US and UK already using Now Patient
Manage your health and prescriptions all in one place for FREE. Available to use by downloading the App, or using your web browser.
Your Questions Answered
For your peace of mind, we can answer your health questions quickly
If you want to learn more about the range of services that we provide which can help manage and improve your health, then just click the button below.
Find your answers