PLEASE READ THIS POLICY CAREFULLY BEFORE USING THE NOWPATIENT FORUM
This acceptable use policy ("Policy") sets out the content standards that apply when you use the community forum facilities (together the "Forum") made available through our Website or App (as defined below), including when you make contact with other users on the Forum.
Who we are and how to contact us
Our website is www.nowpatient.com (our Website). Our App is called "NowPatient" and can be downloaded from the App Store (for Apple devices) or Google Play (for Android devices) and on any web browser (our App).
Our Website and App are operated by Infohealth Limited ("Infohealth", "we", "us" and "our").
We are registered in England and Wales under company number 04004930 and have our registered office at Lynwood House, 373 – 375 Station Road, Harrow, England, HA1 2AW.
You can contact us:
Online at nowpatient.com
By email at

[email protected]

By phone at +44 20 388 51 500 (Freephone)
By post:
Now Patient
c/o Infohealth Pharmacy
28 Chipstead Valley Road
Coulsdon
Surrey
CR5 2RA
By using the Forum you accept these terms
Whether or not you have already agreed to abide by the terms of this Policy (by tick box confirmation or otherwise), by using the Forum, you confirm that you accept the terms of this Policy and that you agree to comply with them.
If you do not agree to the terms of this Policy, you must not use the Forum.
We recommend that you print a copy of this Policy for future reference.
There are other terms that apply to you
Other terms also apply to your use of the Forum and our services more widely. These are set out on our Website and include (but are not limited to) the following :
To use the Forum you must be over 18.
You are responsible for ensuring that anyone else who accesses the Forum through your internet connection or uses the Forum on your device is aware of this Policy and the terms referred to above and that they comply with them.
Prohibited uses of the Forum
You may not use the Forum:
In any way that breaches any applicable local, national or international law or regulation.
In any way that is unlawful or fraudulent or has any unlawful or fraudulent purpose or effect.
For the purpose of harming or attempting to harm minors in any way.
To bully, insult, intimidate or humiliate any person.
To send, knowingly receive, upload, download, use or re-use any material which does not comply with our Content Standards.
To transmit, or procure the sending of, any unsolicited or unauthorised advertising or promotional material or any other form of similar solicitation (spam).
To knowingly transmit any data, send or upload any material that contains viruses, Trojan horses, worms, time-bombs, keystroke loggers, spyware, adware or any other harmful programs or similar computer code designed to adversely affect the operation of any computer software or hardware.
In any way that involves child sexual exploitation or abuse.
To upload terrorist content.
You also agree:
Not to reproduce, duplicate, copy or re-sell any part of our Website or App in contravention of the provisions of our Terms of Use.
Not to access without authority, interfere with, damage or disrupt:

any part of our Website or App;
any equipment or network on which our Website is stored;
any software used in the provision of our Website or App; or
any equipment or network or software owned or used by any third party.
Submission of Contributions
Before providing any content (whether text, photographs, pictures, video, audio or otherwise), information, data, communications, comments or other material which you contribute via our Website or App (a "Contribution") to the Forum, you must have a registered user account with us.
You should follow any instructions relating to the Forum in order to add Contributions, including:
Asking a question in a discussion forum.
Commenting on an article or blog post.
Replying to a question or comment.
You should always bear in mind that Contributions will be visible by other users.
Moderation of Contributions and our liability to you
We will do our best to assess any possible risks for users when they use any the Forum provided by us, and we will decide in each case whether it is appropriate to use moderation of the relevant service (including what kind of moderation to use) in the light of those risks.
If the Forum is moderated, Contributions submitted to the will be checked for compliance with the Content Standards below in accordance with our processes.
If the Forum is pre-moderated, we will try to publish as many Contributions as possible but cannot guarantee that all Contributions will be published. We also cannot guarantee how quickly Contributions will be posted as this will depend on other editorial commitments.
Whether or not we decide to moderate the Forum, we are under no obligation to you or any other person to oversee, monitor or moderate the Forum and we may stop moderating, or change our moderation processes, at any time.
We reserve the right to remove, or to disable access to, any Contribution which we deem in our discretion to be in breach of the Content Standards or this Policy more broadly.
To the extent permitted by law, we expressly exclude our liability for any loss or damage arising from the use of the Forum by a user, whether the Forum is moderated or not.
In particular you acknowledge that, when using the Forum:
Contributions you submit may be made public and that we take no responsibility for any consequences resulting from other users viewing, responding to or acting on such Contributions. You must ensure that all Contributions are suitable and appropriate and that they comply with the Content Standards below and you accept all liability in that regard; and
You may view and respond to Contributions made by other users. Such Contributions do not constitute medical (or other specialised) advice and are not intended to be a substitute for independent professional medical judgment, advice, diagnosis, or treatment. You must not rely on or act on (or encourage others to rely or act on) any Contributions without independent advice from a duly qualified and registered healthcare (or other appropriate) practitioner and you accept all liability in that regard.
These content standards apply to any and all Contributions.
The Content Standards must be complied with in spirit as well as to the letter. The standards apply to each part of any Contribution as well as to its whole.
We will determine, in our discretion, whether a Contribution breaches the Content Standards.
A Contribution must:
Be accurate (where it states facts).
Be genuinely held (where it states opinions).
Comply with the law applicable in England and Wales and in any country from which it is posted.
A Contribution must not:
Be defamatory of any person.
Be obscene, offensive, hateful or inflammatory.
Bully, insult, intimidate or humiliate.
Promote sexually explicit material.
Include child sexual abuse material.
Promote violence.
Promote discrimination based on race, sex, religion, nationality, disability, sexual orientation or age.
Infringe any copyright, database right or trade mark of any other person.
Be likely to deceive any person.
Breach any legal duty owed to a third party, such as a contractual duty or a duty of confidence.
Promote any illegal content or activity.
Be in contempt of court.
Be threatening, abuse or invade another's privacy, or cause annoyance, inconvenience or needless anxiety.
Disclose any third party's personal data without their consent (Third Party Data). If we receive Third Party Data from you, we will assume that you have obtained their explicit consent to transfer it to us and will treat it in accordance with our Privacy Policy, particularly the "Family Accounts" section.
Be likely to harass, upset, embarrass, alarm or annoy any other person.
Impersonate any person or misrepresent your identity or affiliation with any person.
Give the impression that the Contribution emanates from us, if this is not the case.
Advocate, promote, incite any party to commit, or assist any unlawful or criminal act such as (by way of example only) copyright infringement or computer misuse.
Contain a statement which you know or believe, or have reasonable grounds for believing, that members of the public to whom the statement is, or is to be, published are likely to understand as a direct or indirect encouragement or other inducement to the commission, preparation or instigation of acts of terrorism.
Contain any advertising or promote any services or web links to other sites.
Purport to diagnose or treat any medical condition, disease, disorder or injury or provide medical advice to other users.
Seek medical advice from other users in relation to any medical condition, disease, disorder or injury.
Promote or advertise any named medicinal product.
Sell, offer to sell, supply or offer to supply any medicinal product.
By submitting a Contribution, you agree to grant us a non-exclusive licence to use that Contribution. Although you will still own the copyright in your Contribution, we will have the right to freely use, edit, alter, reproduce, publish and/or distribute the material contained in your Contribution. This licence will be free of charge, perpetual and capable of sub-licence. We may exercise all copyright and publicity rights in the material contained in your Contribution in all jurisdictions, to their full extent and for the full period for which any such rights exist in that material.
Please also note that, in accordance with the Content Standards above, you must ensure that your Contribution does not infringe any copyright, database right or trade mark of any other person. By submitting your Contribution to the Forum, you are warranting that you have the right to grant us the non-exclusive copyright licence described above.
If you are not in a position to grant such a licence to us, please do not submit the Contribution.
When we consider that a breach of this Policy has occurred, we may take such action as we deem appropriate.
Failure to comply with this Policy constitutes a material breach of the UK Terms of Use & US Terms of Use upon which you are permitted to use our Website and App, and may result in our taking all or any of the actions set out in those Terms of Use.
In addition, we may remove any Contributions that do not comply with this Policy, and/or issue a warning to you and/or take legal proceedings against you, including where applicable disclosing such information to law enforcement authorities as we reasonably feel is necessary or as required by law.
We exclude our liability for all action we may take in response to breaches of this Policy. The actions we may take are not limited to those described above, and we may take any other action we reasonably deem appropriate.
Changes to this Policy and our other policies
We make changes to this Policy from time to time. You should, therefore, check this Policy whenever you return to our Website or use the App to see whether any changes have been made, as these will be binding on you.
We also make changes to our other policies from time to time, so you should also check these regularly to see whether any changes have been made.
If you wish to complain about any Contribution or any other matter relating to this Policy, please e-mail us using the e-mail address [email protected]
We will then review any relevant Contributions identified and decide whether it complies with the Content Standards above. We will deal with any Contribution which, in our opinion, violates the Content Standards as described above (see section "Breach of this Policy").
Which laws apply to this Policy and where you may bring legal proceedings
This Policy (and all disputes arising out of or about it including disputes of a non-contractual nature) are governed by the laws of England and Wales. Subject at all times to the mediation and resolution processes referred to in the paragraph above headed "Disputes", the courts of England and Wales shall have exclusive jurisdiction about all such disputes, except that if you are a resident of Scotland or Northern Ireland, you may also bring a claim in the courts of Scotland or Northern Ireland respectively.
WHY WE BUILT NOW PATIENT
To improve the lives of everyone by making high-quality care accessible and convenient
As technologists and clinicians, we built Now Patient to be more than just an online pharmacy. We are here to improve lives. Our service gives you access to smart features & resources that can help empower you to take control of your health and improve your health outcomes. All this, in one place, for FREE. We strive to bring a fresh perspective to managing health. Not play by the rules. Now Patient can be accessed by downloading the App or using your web browser.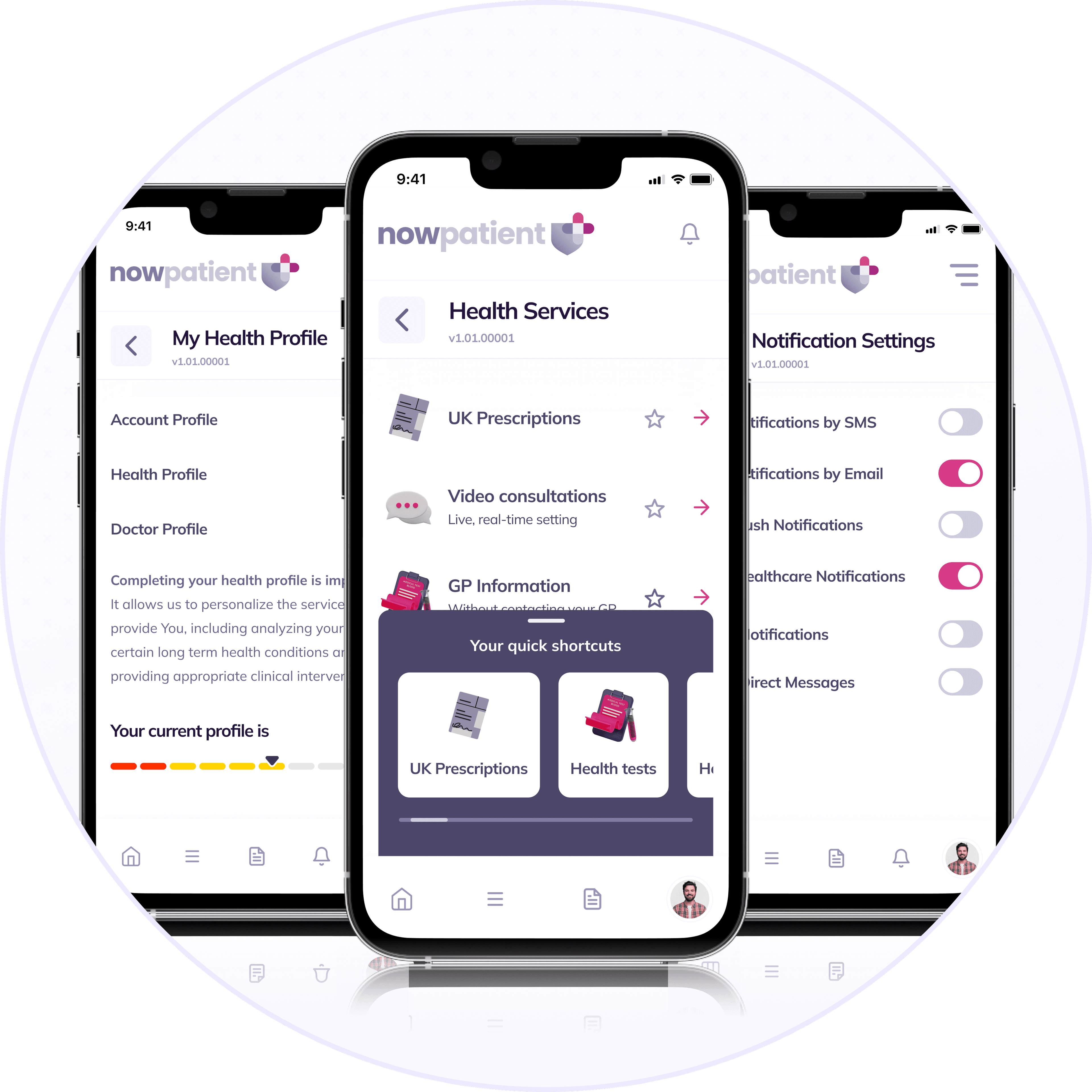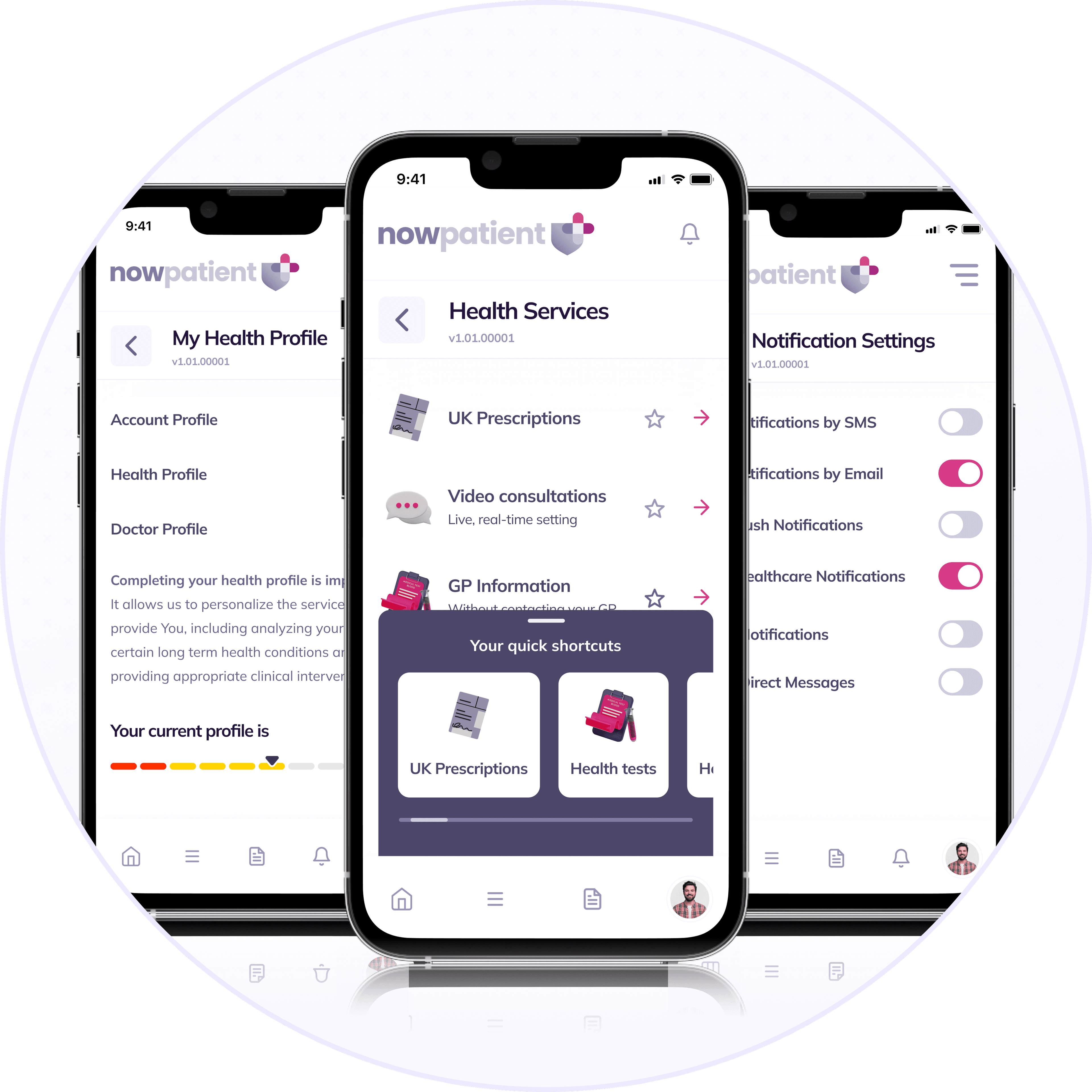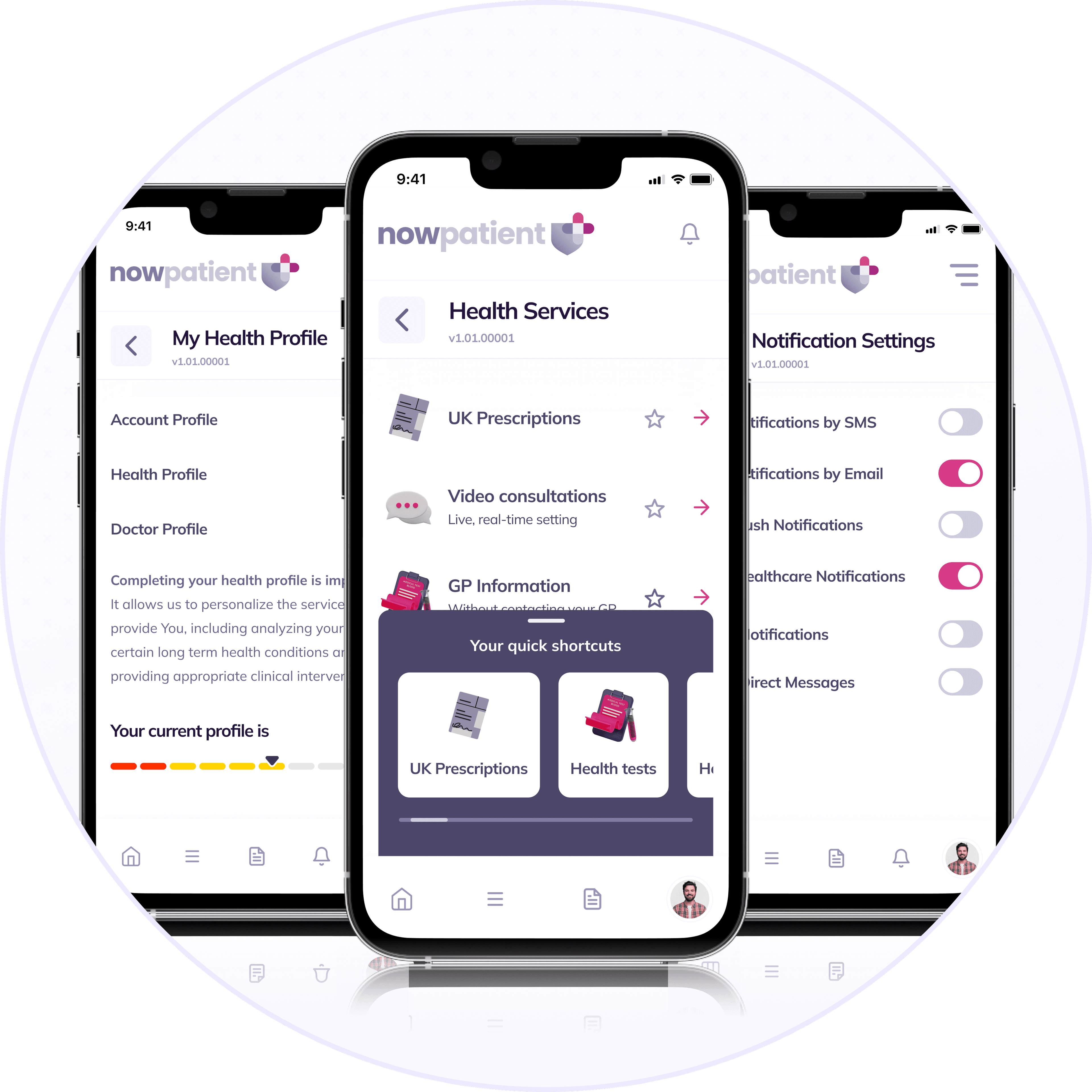 NOW PATIENT
Join the thousands of happy customers in the US and UK already using Now Patient
Manage your health and prescriptions all in one place for FREE. Available to use by downloading the App, or using your web browser.
Your Questions Answered
For your peace of mind, we can answer your health questions quickly
If you want to learn more about the range of services that we provide which can help manage and improve your health, then just click the button below.
Find your answers